Date/dates: 14/10/2015
Time: 4:30 pm - 7:30 pm

---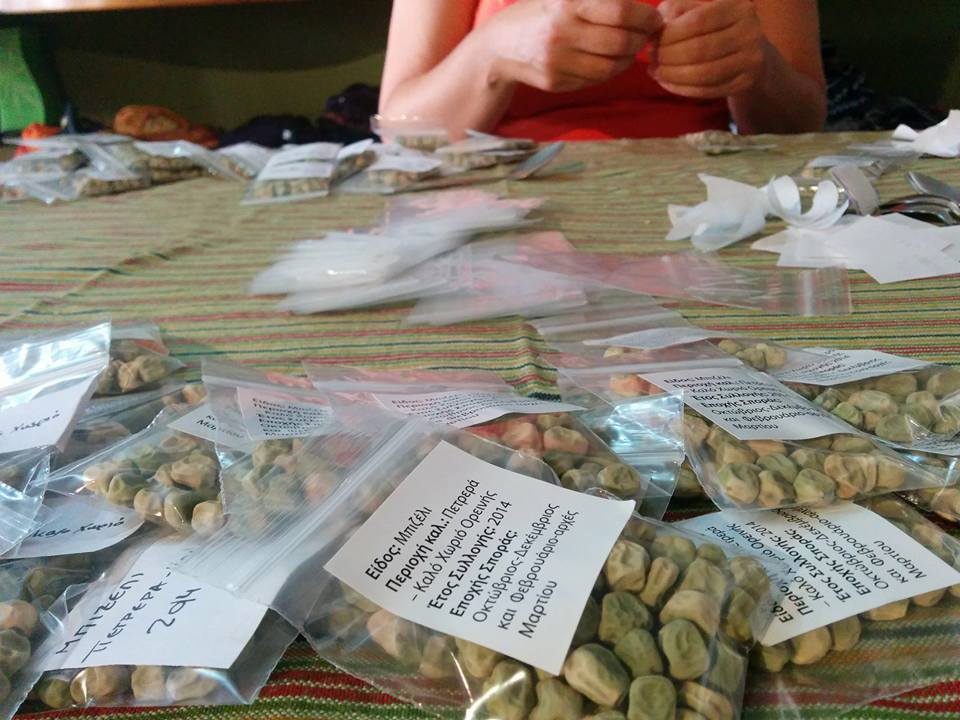 Στα πλαίσια των παγκόσμιων κινητοποιήσεων για την Ελευθερία των Σπόρων σας προσκαλούμε στην εκδήλωση  «Ελευθερία των Σπόρων: Δράση για Ζωντανούς Σπόρους και Ζωντανό Χώμα», την Τετάρτη 14 Οκτωβρίου από τις 16:30 μέχρι τις 19:30 στο Γυμνάσιο Έγκωμης (Ίωνος, 2406 Έγκωμη).

Κατά τη διάρκεια της εκδήλωσης θα πραγματοποιηθούν παρουσιάσεις και προβολές σχετικά με την παγκόσμια δράση για τη διάσωση και διατήρηση των παραδοσιακών σπόρων, τη σημασία των παραδοσιακών σπόρων στο περιβάλλον, στην υγεία μας και στις φυσικές καλλιέργειες. Επίσης θα παρουσιαστεί η κυπριακή ομάδα Συλλογικό Σπορείο, η οποία τα τελευταία 2 χρόνια ασχολείται εντατικά με τη εξεύρεση, διάσωση και διατήρηση ντόπιων ποικιλιών, τον πολλαπλασιασμό τους και τη διάθεση τους στο κοινό. Στον χώρο θα γίνεται και ανταλλαγή παραδοσιακών σπόρων!
Οι μικροί μας φίλοι θα έχουν την ευκαιρία να συμμετάσχουν σε εργαστήρια κατασκευής χειροτεχνιών με σπόρους ενώ όλοι θα μπορούν να φτιάξουν μπάλες με χώμα και σπόρους (seedballs). Τέλος, θα προσφέρονται ροφήματα και τσιμπήματα.
Την εκδήλωση οργανώνουν οι ομάδες: Κίνημα Ζωής Κύπρου, Ουτοπία Κολεκτίβα, Ανάκυκλος, Αμάραντος, Συλλογικό Σπορείο.
Πρόγραμμα Εκδήλωσης
16:30 – 17:30 Ανταλλαγή Σπόρων και Εργαστήρια για μικρούς και μεγάλους
17:30 – 17:45 Χαιρετισμός και προβολή
17:45 – 19:30 Παρουσιάσεις:
• Διατήρηση παραδοσιακών σπόρων λαχανικών
`(Άγγελος Κυρατζής, Λειτουργός Γεωργικών Ερευνών, ΙΓΕ)
• Αειφόρες Καλλιέργειες (Permaculture)
• Η δράση του Κινήματος Ζωής Κύπρου
• Η δράση του Συλλογικού Σπορείου
Είσοδος Ελεύθερη
Επικοινωνία: 70007102
            *******************************
As part of the global action for the Freedom of Seeds we invite you to the event "Seed Freedom: Call to Action for Living Seeds and Living Soil", on Wednesday 14th of October from 16:30 until 17:30 at Engomi high school (Ionos street, 2406 Engomi).
 During the event presentations and screenings will take place on the global initiatives for the rescue and preservation of our heirloom seeds, their importance for the environment, our health and our natural crops. Furthermore, the local team Collective Seed Sowing will be presented, an initiative active the last 2 years in finding, saving and preserving local seed varieties, in their multiplication and distribution to the public. An exchange of heirloom seeds will also take place!
 Our young friends will have the chance to participate in workshops for making handcrafts with seeds and everyone could help make seedballs. Finally, drinks and bites will be served.
 The event is organised by the groups: Movement of Life Cyprus, Utopia Collectiva, Anakyklos, Amarandos, Collective Seed Sowing (Syllogiko Sporeio).
Program
16:30 – 17:30 Seed exchange and workshops for kids and adults
17:30 – 17:45 Introduction and screening
17:45 – 19:30 Presentations:
– Preservation of heirloom seeds from vegetables (Aggelos Kiratyzis, Agricultural Research Officer, ARI)
– Permaculture: natural cultivations
– The work of Movement of Life Cyprus
– The work of the initiative: Collective Seed Sowing
Free entrance
Contact: 70007102
---
Facebook Event: https://www.facebook.com/events/431721483692957/

Organiser Name: Συλλογικό Σπορείο (Collective Seed Sowing)
Organiser email: utopiacollectiva@gmail.com
Organiser Facebook Page: https://www.facebook.com/groups/1606503882898448/