Date/dates: 11/10/2015 - 11/11/2015
Time: 9:00 am - 12:30 pm

---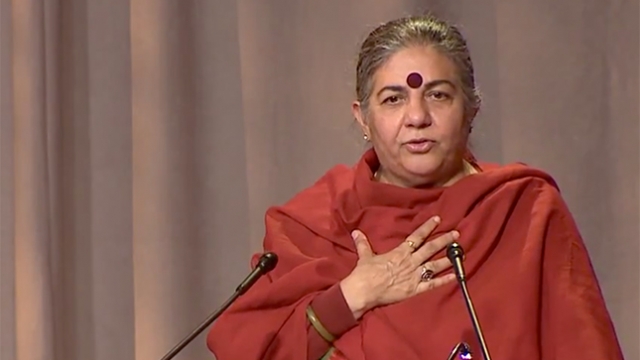 An Omega Center for Sustainable Living Online Event
Sunday, October 11, 2015
9:00 a.m.–12:30 p.m. Eastern Time (Time Zone Converter)
In light of the important national conversation on GMO labeling and access to quality food for all, the Omega Center for Sustainable Living is pleased to offer online access to Food Justice From Seed to Market, a part of the Seeds of Change Conference.
Renowned environmental activists Vandana Shiva and Winona LaDuke will be joined by Hudson Valley Seed Library cofounder Ken Greene, cofounder of Freedom Food Alliance Jalal Sabur, author of The Color of Food Natasha Bowens, CEO of Growing Power Will Allen, and many regional leaders and organizations advocating for GMO labeling and equal food access.
Join us in person for the whole weekend, or watch Sunday morning 9:00 a.m. to 12:30 p.m. Eastern Time (Time Zone Converter) live from anywhere.
Your registration includes access to the archive video through November 11, 2015.
Community Support
In order to make these programs available to the broadest possible audience and foster community spirit around this event, we've instituted a generosity policy for this online program. Please reflect on your ability to pay. By paying at either the suggested or patron rate, your generosity enables us to offer registration free of charge to students, educators, or anyone for whom event fees present an obstacle to attending.
Generosity Rate: FREE
Suggested Rate: $15.00
Patron Rate: $30.00
Webpage with more details: https://www.eomega.org/online-workshops/food-justice-from-seed-to-market#-workshop-description-block
More info: 845-266-4444 x386
Organiser Name: Omega Institute
Organiser email: lauraw@eomega.org
Organiser Website: https://www.eomega.org/ocsl
Organiser Facebook Page: https://www.facebook.com/Omega.OCSL
Organiser Twitter url: https://twitter.com/omega_institute