Date/dates: 11/10/2014 - 12/10/2014
Time: All Day

---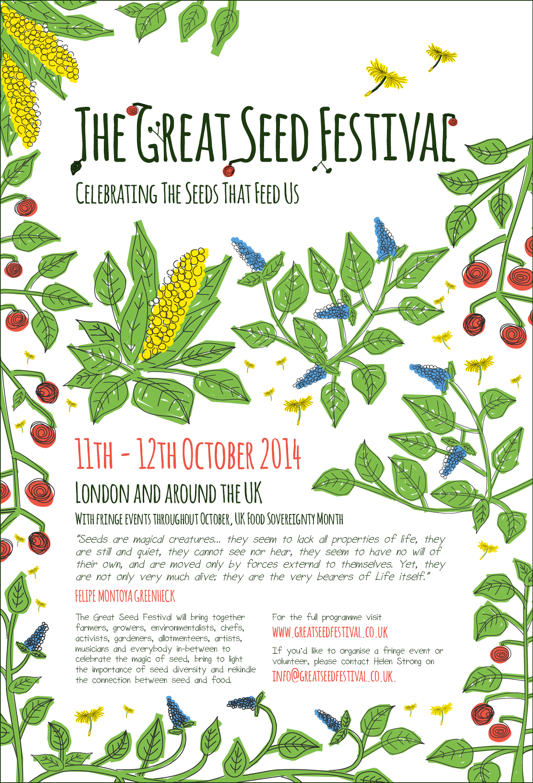 The Great Seed Festival
Celebrating the Seeds that Feed us
London and around the UK
With fringe events throughout October, UK Food Sovereignty Month.
The Great Seed Festival is a UK-wide celebration being held to recognise and celebrate the importance of seed. It will be held throughout October 2014 which is Food Sovereignty Month and also hosts World Food Day each year on the 16th.
The festival will take place around the country, with a host of collaborators putting on events nationwide at various times throughout the month.
London will host a hub of activity at the Garden Museum on the 11th and 12th of October with many different activities on offer. Throughout the weekend the museum and its gardens will host an abundance of stalls and workshops, talks and seed swaps; activities for people of all ages, interests and backgrounds. Capital Growth, Food Growing Schools London, Rococo Chocolates, the Gaia Foundation, Garden Organic's Heritage Seed Library, the UK Food Group, Dusty Knuckle Bakery, the Soil Association, Beyond GM, Slow Food London, World Development Movement, and many more from the UK's diverse food movement will be there.
So whether you know nothing at all about seed or are an expert seed saver yourself, this is the place to be to learn about seed, get hands on with it, and join in the celebration of the seeds that feed us!
You can find out more about what we've got planned around the country and what's going on near you by checking out the programme, and following us on twitter for festival news @greatseedfest
All details on The Great Seed Festival brand new website: http://www.greatseedfestival.co.uk/

If you'd like to organise a fringe event or volunteer, please contact Helen Strong on: info@greatseedfestival.co.uk
Related Events on this Calendar:
Festival of Wellbeing – Resugence
London Freedom Seed Bank Festival
Webpage with more details: http://www.greatseedfestival.co.uk/
More info: http://www.greatseedfestival.co.uk/about-the-festival/
Organiser Name: The Great Seed Festival is brought to you by food growing networks, seed and food justice organisations and individuals from across the UK, coordinated by The Gaia Foundation, Beyond GM and the UK Food Group.
Organiser email: info@greatseedfestival.co.uk
Organiser Website: http://www.greatseedfestival.co.uk/whos-involved/
Organiser Twitter url: https://twitter.com/greatseedfest