Date/dates: 22/04/2020 - 25/04/2020
Time: All Day

---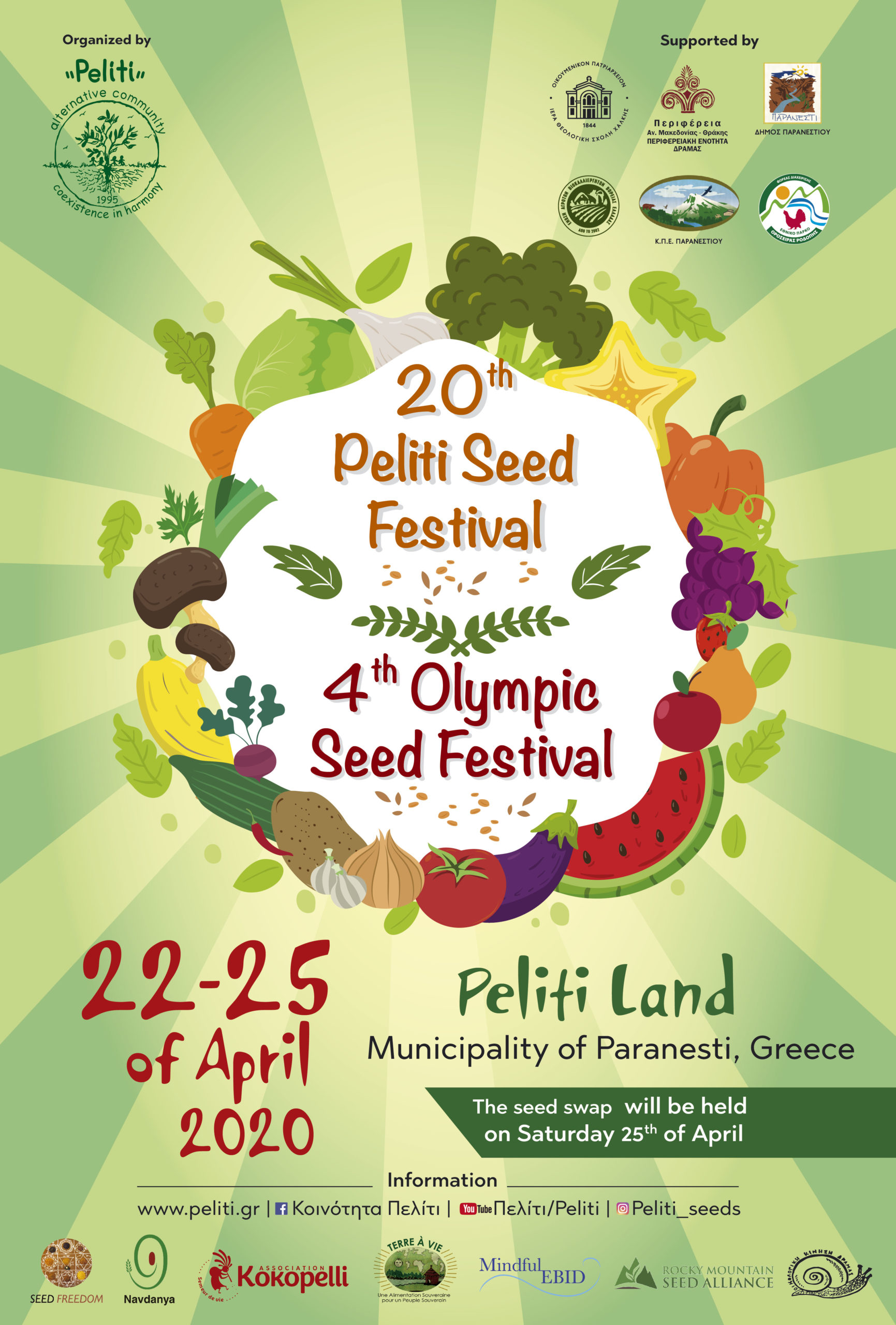 The 20th Peliti Seed Festival will take place in Greece, at the land of Peliti in Mesochori Paranesti, Drama Prefecture Greece, on Saturday, April 25th 2020 from 10:30 a.m. to 19:00 p.m.
This Festival is the main event of the Community of Peliti throughout the year, celebrating traditional seed varieties, the no-money economy and this year we are also celebrating the 25 years of the Community of Peliti (1995-2020).
The Peliti Seed Festival 2020 will run in parallel with the 4nd Olympic Seed Festival, (from April 22 – 25, 2020) suggested by Peliti at the World People's Assembly which was held in The Hague, from 14 to16 October 2016. Civil Society Movements working on seed and food sovereignty from at least 21 countries accross the world will take part in this year's festival, including representatives of indigenous peoples from Brazil, among others.
The 20th  Peliti Seed Festival, organized by the Community of Peliti, www.peliti.gr
with the kind support of :
The   Region of Eastern Macedonia and Thrace, www.pamth.gov.gr
The   Municipality of Paranesti, www.paranesti.gr
The Center of Environmental Education of Paranesti, www.kpeparanestiou.gr
The Management Body of Rhodope Mountain Range, www.fdor.gr
The Halki Theological School, www.theologicalschoolhalki.com
The Global Movement to defend seed, Seed Freedom, seedfreedom.info, the campaign started in 2012 by Navdanya International
The Navdanya Indian-based non-governmental organization, www.navdanya.org
The Mindful EBID  www.mindfulebid.de
The Association Kokopelli in France, www.kokopelli-semences.fr
The Rocky Maountain Seed Alliance (RMSA), a U.S. not-for-profit, rockymountainseeds.org
Webpage with more details: https://peliti.gr/20th-peliti-seed-festival-4rd-olympic-seed-festival-2020/
Facebook Event: https://www.facebook.com/events/701843876951250/

Organiser Name: Peliti