Date/dates: 16/10/2016
Time: 10:00 am - 3:00 pm

---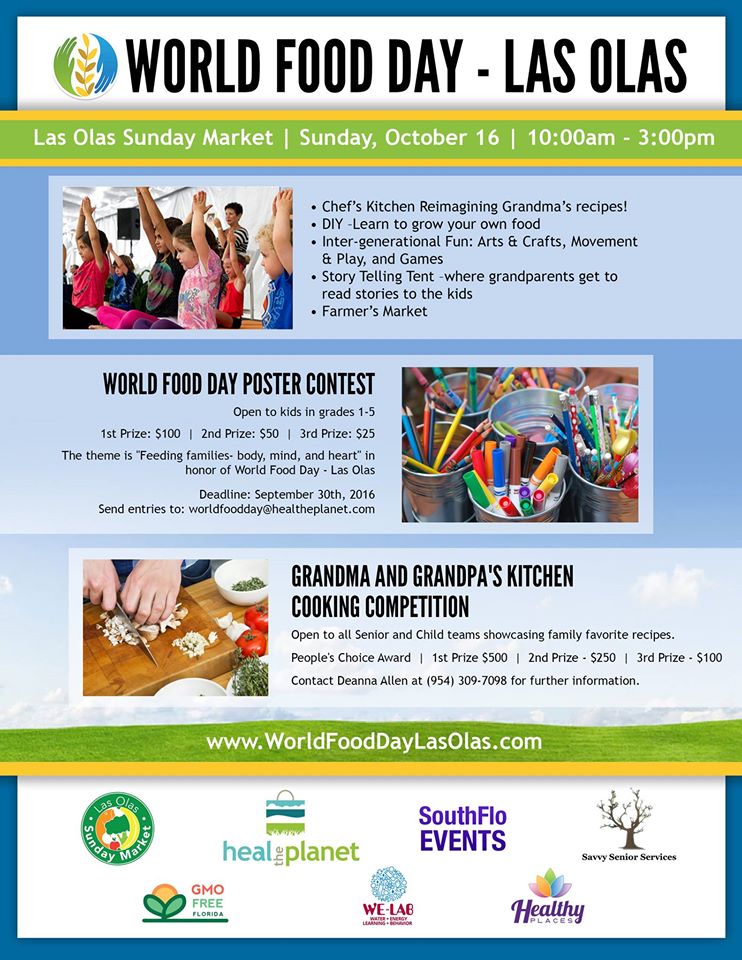 World Food Day is an international movement to highlight solutions to hunger and to celebrate communities coming together around food and all that it stands for. Our theme this year is sustainable agriculture and Heal the Planet is happy to team up with Savvy Senior Services and SouthFlo Events to bring you the best that South Florida has to offer.
This is a free one-day inter-generational, family fun event celebrating local solutions to end hunger with a focus on sustainable agriculture. WFDLasOlas is focusing on encouraging our elders to share their wisdom and experience with younger generations.
It's a street fair with fun activities and contests like "Grandma & Grandpa's Kitchen" Cooking Competition; Story Telling and Movement tents and educational presentations on topics of ecological responsibility and health and wellness. There will be a plethora of vendors and educational presentations.
Schedule of presentations:
 10:00 – Ken Fisher, Founder of Heal the Planet, with opening remarks
 10:30 – 11:00 Anne Goldberg of Savvy Senior Services – "Lifestyle Trumps Genetics"
 11:00 – 11:30am All Fed or similar talking hungar relief
 1130am – 12:00pm – Heal the Planet Healty Cooking Demo
 12:00pm – 1:00pm – Dream in Green WELAB sustainability presentation – register here: http://we-lab.net/workshop/
 1:30 – 2:00pm Chef's Competition Awards
 2:00-2:45: Drum Café – interactive drumming performance
 3:00: Closing Remarks
Facebook Event: https://www.facebook.com/events/844054072396383/

Organiser Name: Heal The Planet
Organiser email: info@healtheplanet.com
Organiser Website: http://www.healtheplanet.com/
Organiser Facebook Page: https://www.facebook.com/healtheplanetonline/


Location:
Las Olas- World Food Day
Las Olas Sunday Market 333 E Las Olas Blvd, Fort Lauderdale 33301 - Las Olas
Florida - Stati Uniti
More Events at this location