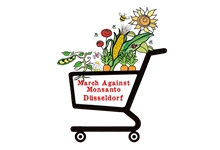 March Against Monsanto Düsseldorf
In May 2013 we joined the March Against Monsanto Movement and since then we have been part of it.
Especially we love the Call to Action for Seed Freedom every year in October!
This year's March Against Monsanto 2016 we decided to dedicate it to the Terra Viva Manifesto, which really describes all our reasons why we do all this!
We are really thankful for being part of the movement.
mamduesseldorf@gmail.com

Olivia Tawiah
---
Leben findet Stadt
Leben findet Stadt means originally life finds place, and we changed it into Life finds City and City comes to Life.
It is our "Transition Place" for Düsseldorf, a community room where groups, people from near and far, neighbours and friends can meet, exchange and get active for a better and healthier future for us and coming generations.
It's a learning place in every sense, where we can grow and experiment on lots of things, like sharing, repairing, wasting less, saving food, building a community garden and of course the community itself.
In this place we also have the chance to host many events, and especially the Seed and Plants Swap and Market in October.
olivia.tawiah@lebenfindetstadt.de

Olivia Tawiah