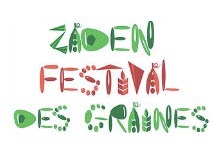 Last year in London Vandana Shiva announced the creation of "Seed Festivals" around the world to liberalise the seeds and to generate awareness of the importance of the seeds for our food and health.
Jointly with London, Warsaw, Athens and Amsterdam, the Urban Ecology Centre supported by Demeter International and many local partners are coordinating the first "Zaden Festival des Graines" (Seed Festival) in Brussels, Belgium.
The first edition took place on the 11/12 October 2014 at the Forum du Campus de la Plaine of the Université Libre Bruxelles (the Free Univesity Brussels).
This festival united academics and NGOs as well as local citizens to save or liberate seeds, to exchange them, to learn how to become personally and practically engaged, and to simplify reproduction and commercialisation. We wanted to show the crucial importance of seeds for life, nutrition and health. We need to push for freedom of seeds related to patents and intellectual property rights. We want to create agriculture in harmony with Nature, not using any GMOs.
The Festival engaged breeders, farmers, gardeners, entrepreneurs, citizens and NGOs to raise awareness of, and to celebrate the importance of, Open-pollinated Seeds for our food and health as well as for biodiversity. Our message : let us sow seeds to create hope and a system of greater justice and health, based on multi-local markets and a better and sustainable environment now and for future generations.
The Festival combined dance, music, art, exchange of seeds, seed-breeding and plant-growing workshops, discussions and exhibitions of sustainable projects around seeds, farming with food and cookery… We discussed the practical implementation of 30% ecological seeds and farming by the year 2030, as well as the impact of the Free Trade Agreement between the EU and the US for food and health on a local, regional, European or worldwide level.
---
---