Date/dates: 03/05/2015
Time: All Day

---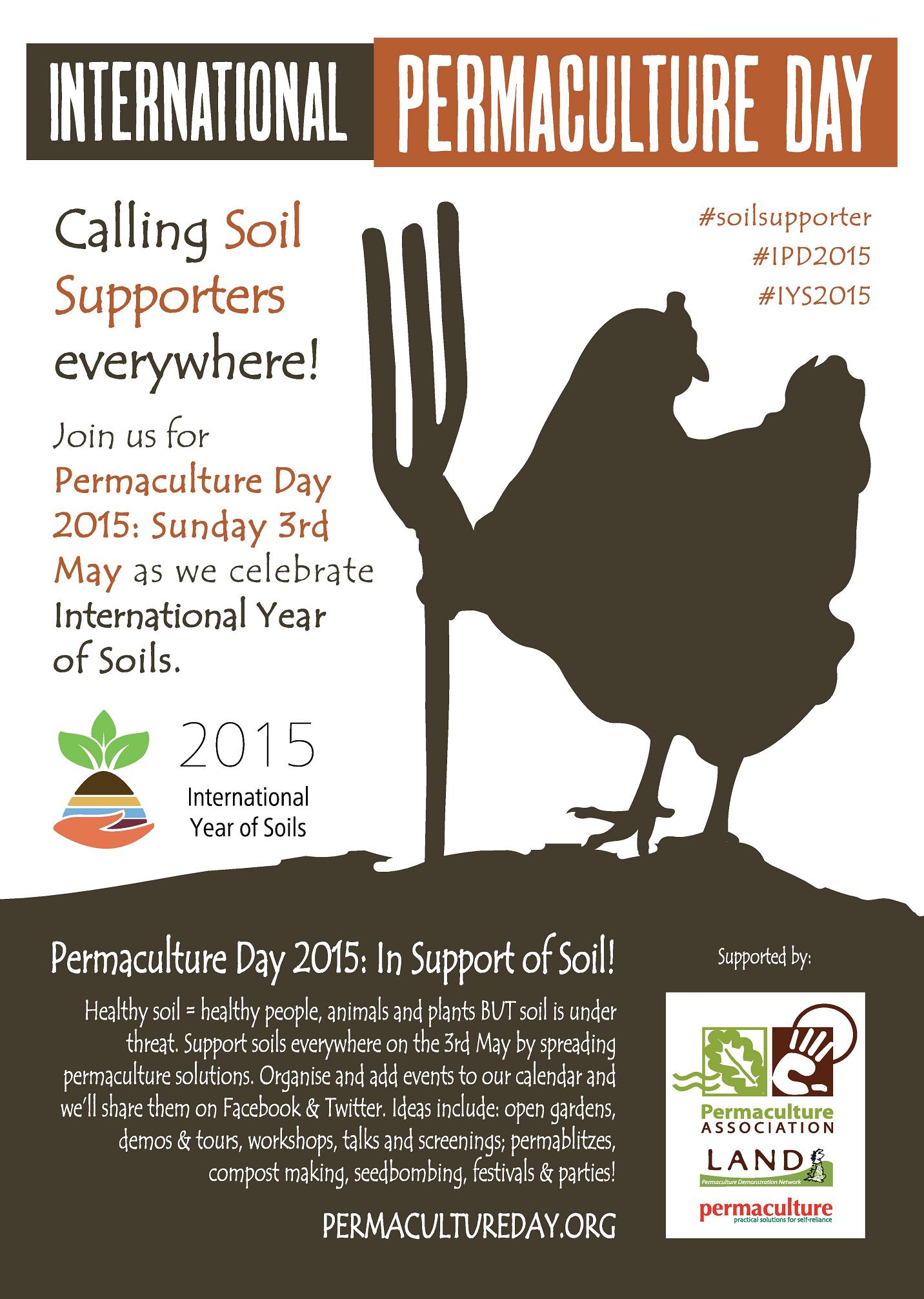 –
Español: http://bit.ly/ApoyoalSuelo

Permaculture Day 2015:
In Support of Soil!
Sunday 3rd May
Celebrating International Year of Soils
Healthy soil makes for healthy people, animals and plants; it provides the foundation for all life on land. Soil gives us food, clean water, clean air, medicine, fibre and fuel, it's also a climate regulator and buffer.
But soil is under threat. Millennia of agriculture and other human activities have robbed our soils of life. Today almost one third of the planet's surface is classed as desert and a quarter of all agricultural soils have been lost. The remaining topsoil is depleted and could vanish within 60 years.
The good news is that we can restore our soils and, at the same time, solve other global challenges. Read more about soil restoring here…
Around the world, on Sunday 3rd May, permaculture centres will be opening their doors to showcase soil solutions. Come and learn about rebuilding our soils and creating healthy local food systems.
For events and actions near you see our regional events or why not organise your own?
Keep up to date with the latest Permaculture Day news via Twitter and our In Support of Soil – Facebook event.
Join us in support of soil!
International Permaculture Day Team
Email | Website | Facebook | Twitter | YouTube | Newsletter | Calendar
International Permaculture Day is a not-for-profit initiative funded by the permaculture community. Most events are free or ask for a small donation.
What is Permaculture?
Permaculture is a design system for sustainable living that developed in Australia in the 1970s and is now practiced by millions worldwide. It's about working with nature to create homes and communities that are environmentally friendly, productive and self reliant, and includes a wide range of ecological disciplines and practices such as organic agriculture, renewable energy, waste recycling, water harvesting, holistic animal management, natural building, sustainable economics, community building and earth repair.
Event Partners

Webpage with more details: http://www.permacultureday.org/permaculture-day-2015-calling-soil-supporters-everywhere/
Facebook Event: https://www.facebook.com/events/764159563607798/

Organiser Name: International Permaculture Day
Organiser email: http://www.permacultureday.org/contact-us/
Organiser Website: http://www.permacultureday.org/
Organiser Facebook Page: https://www.facebook.com/InternationalPermacultureDay
Organiser Twitter url: https://twitter.com/PermacultureDay