Date/dates: 01/04/2017
Time: 3:00 pm - 6:00 pm

---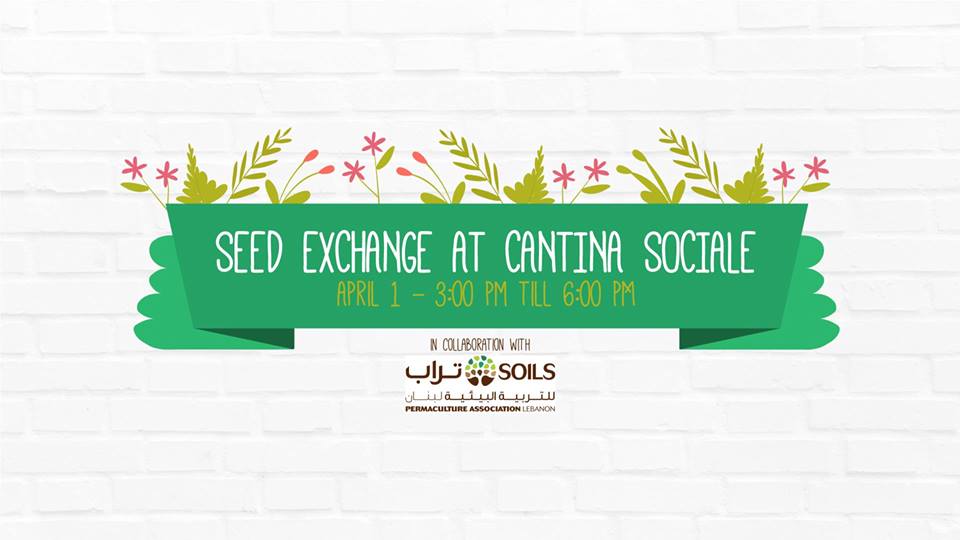 Bring your own seeds to swap them for new ones, and meet seed fanatics in Lebanon! On the 1st Saturday of April, Cantina Sociale will host a seed exchange event in collaboration with SOILS Permaculture Association Lebanon.
What is a seed exchange?
This is a fun event where everyone is welcome to share vegetable or tree seeds from their land or wild seeds they collected from street sides or in the countryside. Everyone is also free to choose new seeds to grow in their garden or on their balcony.
Why is it important?
Without seeds, no one can grow food. More importantly, most farmers and people who plant their own food have no idea where their seeds come from. Hybrid seeds available commercially cannot be regrown, making farmers dependent on suppliers. Genetically modified seeds are an even more serious issue: they require a host of expensive and unsafe pesticides and fertilizers that pose serious health hazards.
Seed exchanges are a way to raise awareness of the importance of saving seeds in communities worldwide. They give participants a chance to share true seeds of vegetables, fruits, herbs or endangered species that have been passed on and regrown through generations of growers.
What should you get?
– Individual envelopes containing a minimum of 3 seeds per variety.
– Envelopes should be labeled with any useful info about your seeds (name of seeds, when and where they were harvested, when to plant them, etc.)
– If you do not have envelopes, you can fold your own and label them at the event using the materials provided.
– Seeds could be for vegetables, fruits, herbs, flowers or woodland trees.
– Seeds should be saved from gardens or orchard varieties.
– We prefer if you do not buy seeds, but if you insist on buying some for the exchange, you should make sure they come from trusted sources and are not labeled hybrids (F1) or genetically modified.
What if you don't have seeds?
You are more than welcome to come and meet like-minded people. You can get free seeds anyway if there are enough quantities. You can also get tips on how to start saving your own seeds. In exchange, you can help us make seed envelopes (it is super easy and fun) and label them to get some practice.
Have you never grown something from a seed?
This is your chance to start. Experts at the event will be more than happy to give you advice and encouragement.
Facebook Event: https://www.facebook.com/events/427352530943904/