Date/dates: 05/01/2015
Time: 7:00 μμ - 9:00 μμ

---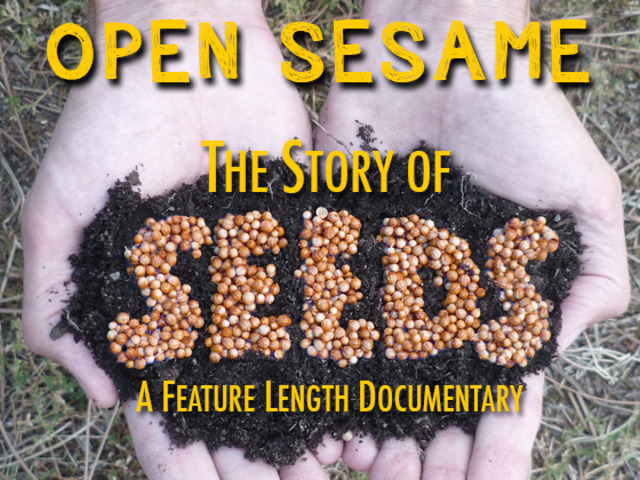 Join us for the screening of the newly released documentary, Open Sesame; The Story of Seeds. This is part of a Seed Freedom Action, sponsored by Sierra Seed Cooperative. This is raising awareness on the political underpinnings of the seed industry, in solidarity with the "Save our Seeds" action that is happening in statewide in protest of the amendments to the California Seed Law; AB 2470.
Tickets are $5 and Proceeds from the screening go to support both Sierra Seeds and the Banner Grange.
One of the world's most precious resources is at risk. This timely and emotionally moving documentary illuminates what is at stake and what can be done to protect the source of nearly all our food: SEEDS. Seeds provide the basis for everything from fabric, to food to fuels. Seeds are as essential to life as the air we breathe or water we drink…but given far less attention.
According to the FAO (Food and Agriculture Organization of the UN), approximately 90 percent of the fruit and vegetable varieties that existed 100 years ago no longer exist today. Heritage grain is near extinction. Seeds that were lovingly nurtured over decades or even hundreds of years have been lost forever. Maintaining seed biodiversity allows us to breed new varieties that are resistant to pests or thrive in temperature extremes. This is essential in a changing climate.
Here's what people are saying:
"Seeds are profound, holy, beautiful, and generous. Meet the seeds and the inspired heroes who love and protect them in this marvelous film journey."
Jeffrey M. Smith, Executive Director of the Institute for Responsible Technology
"I really loved this film. It unlocks the door to the magical, powerful, and perilous world of seeds. It will open hearts and minds. I hope everyone sees it."
Claire Hope Cummings, award winning author of: Uncertain Peril, Genetic Engineering and the Future of Seeds.
"A touching and spiritual film that will no doubt encourage discussion about the future of agriculture…"
Yes! Magazine
"This film is a seed in its own right and can play a seminal role in planting ideas that bring together food security, food sovereignty, human rights and the consumer right to know — exactly the "big tent" we need to win this issue."
Wayne Roberts, Former Manager, Toronto Food Policy Council, Board Member, USC Canada, Seeds of Survival
Webpage with more details: http://sierraseeds.org/workshops-events/
Facebook Event: https://www.facebook.com/events/1513812022216410/
More info: http://www.opensesamemovie.com/
Organiser Name: Sierra Seed Cooperative
Organiser email: rowen@sierraseeds.org
Organiser Website: http://www.sierraseeds.org
Organiser Facebook Page: https://www.facebook.com/sierraseeds
Organiser Twitter url: https://twitter.com/Sierra_Seeds