Date/dates: 23/01/2015
Time: 7:00 μμ - 9:00 μμ

---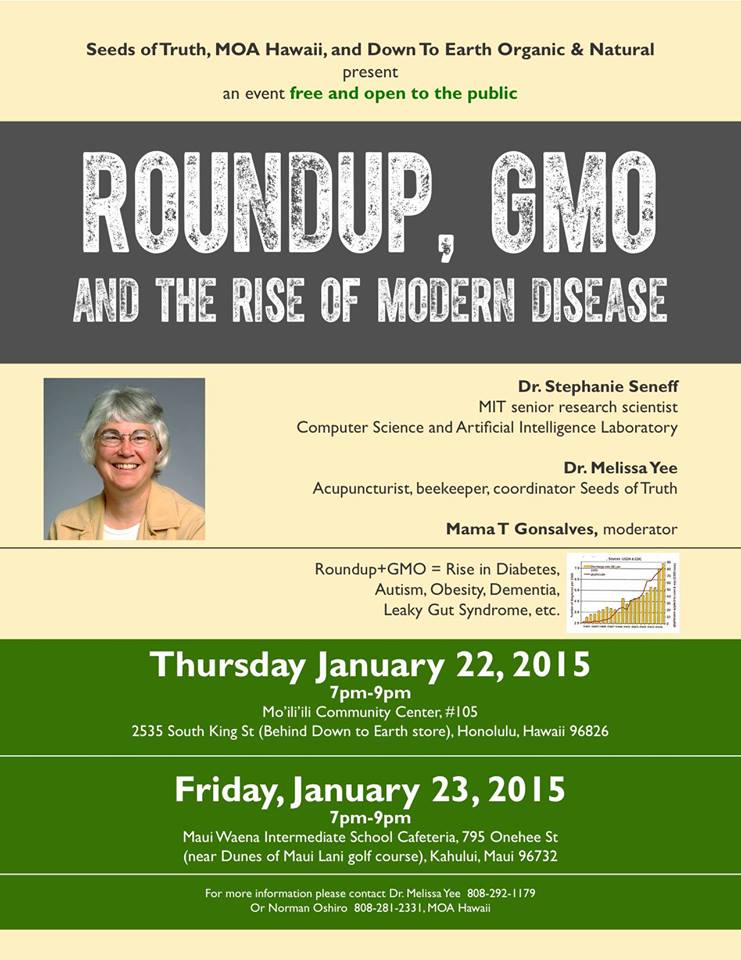 Seeds of Truth, MOA Hawaii, and Down to Earth Organic and Natural present an event free and open to the public.
ROUNDUP, GMO and the Rise of Modern Disease
Featured Speakers:
Dr. Stephanie Seneff
MIT Senior Research Scientist
Computer Science and Artificial Intelligence Laboratory
Dr. Melissa Yee
Acupuncturist, Beekeeper, Coordinator for Seeds of Truth

Mama T Gonsalves, moderator
Roundup+GMO = Rise in Diabetes, Autism, Obesity, Dementia, Leaky Gut Syndrome, etc.
Thursday Jan 22, 2015 7-9pm
Mo'ili'ili Community Center, #105
2535 S. King Street (Behind Down to Earth store) Honolulu
Friday, Jan 23, 2015 7-9pm
Maui Waena Intermediate School Cafeteria
795 Onehee Street, Kahalui 96732
near the Dunes of Maui Lani Golf Course.
For more info, contact Dr. Yee (808)292-1179
Or Norman Oshiro o f MOA Hawaii (808)281-2331
Facebook Event: https://www.facebook.com/events/726711097410162/

Organiser Name: Seeds of Truth, Down to Earth, MOA
Organiser Facebook Page: https://www.facebook.com/pages/Seeds-of-Truth/202013183163923