Date/dates: 16/10/2016
Time: 1:00 μμ - 5:00 μμ

---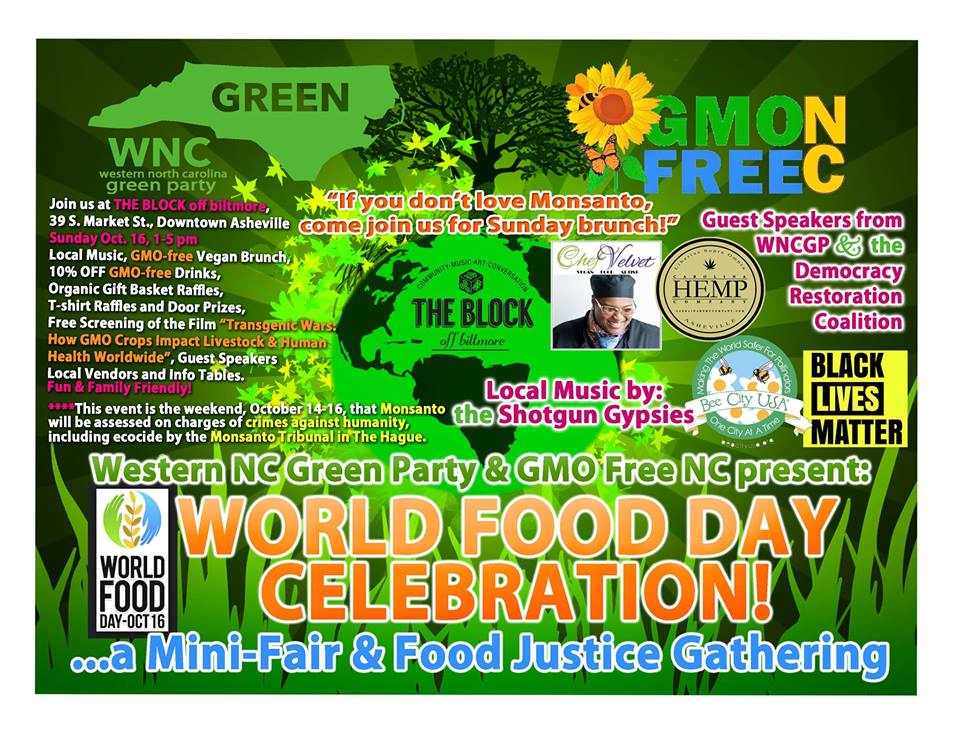 This event is the weekend, October 14-16, that Monsanto will be assessed on charges of crimes against humanity, including ecocide by the Monsanto Tribunal in The Hague.
————————————————–
WORLD FOOD DAY CELEBRATION!
A Mini-Fair & Food Justice Gathering
"If you don't love Monsanto, come join us for Sunday brunch!"
Join us at THE BLOCK off biltmore (TBob), 39 S. Market St. in Downtown Asheville, Sunday Oct. 16, 1-5 pm. We will be celebrating World Food Day with Local Music (no cover charge), Vegan Brunch by the famous Chef Velvet & 10% OFF GMO-free Drinks. There will be Organic Gift Basket Raffles, T-shirt Raffles and Door Prizes and a Free Screening of the new Film, "Transgenic Wars: How GMO Crops Impact Livestock & Human Health Worldwide". Also, Info Tables and awesome Local Vendors! Special Guest Speakers from the WNCGP and the Democracy Restoration Coalition.
Fun & Family Friendly!
Local Music by:
——————-
Shotgun Gypsies
Vendors & Info Tables:
—————————–
Western NC Green Party
GMO Free NC
Carolina Hemp Company
Bee City USA
Black Lives Matter
Green Whimsy Gifts
Waterlillies Organic Spa Gifts
…more tba
PLEASE SHARE AND INVITE FRIENDS !!!!
Facebook Event: https://www.facebook.com/events/1783481975231567/

Organiser Name: Tracy Moss
Organiser Facebook Page: https://www.facebook.com/groups/westernncgreens/