Date/dates: 13/02/2016
Time: 6:00 p.l. - 10:00 p.l.

---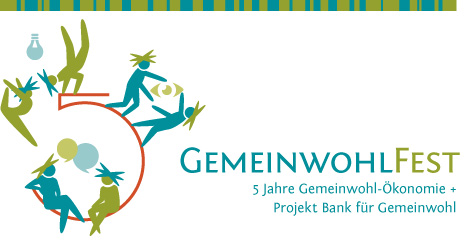 Die indische Aktivistin Vandana Shiva über Ökofeminismus, Großkonzerne und basisdemokratische Alternativen Wiener Zeitung, 15. Februar 2016
Economy for the Common Good, 15 February 2016
Gemeinwohl Ökonomie, 15. Februar 2016
Inspiring words from @drvandanashiva at #EconCommonGoodParty. She spoke of Earth Democracy and against pessimism. pic.twitter.com/h06rC3bO6d

— Common Good Economy (@EconCommonGood) February 15, 2016
Great pictures from the 5 year anniversary party for #EconCommonGood in Viennahttps://t.co/Ye01VmAKMI

— Common Good Economy (@EconCommonGood) February 15, 2016
---
Seien Sie Teil der Veränderung: Weltweit engagieren sich bereits tausende Menschen – großteils ehrenamtlich – für die Verbreitung der Gemeinwohl-Ökonomie und ein ethisches Finanzwesen, das die Bank für Gemeinwohl entscheidend mitgestalten wird. Ziel ist es, menschliche Werte wie Vertrauen und Kooperation zu den Werten der Wirtschaft zu machen. Statt Ellenbogenkampf  und Profitmaximierung soll das Wohl von Menschen und Umwelt im Mittelpunkt stehen.
Kommen Sie zum Gemeinwohl-Fest 2016 und setzen Sie mit Ihrem VisionärInnen-, VeränderInnen- und AlltagsheldInnen-Ticket ein Zeichen dafür, dass eine andere Ökonomie möglich ist. 
Der Reinerlös fließt u.a. in folgende Projekte: Gründung eines internationalen Verbandes, Ausbau internationale Website und Datenbank, Service und Betreuung von Pionierunternehmen, Service-Plattform für Gemeinden und Regionen, Koordination von Forschungs- und Lehrprojekten, Professionalisierung des Fundraisings sowie Policy & Advocacy auf EU-Ebene und in der UNO.
Gönnen Sie sich einen inspirierenden, kreativen Abend – so schön war es noch nie, Veränderung zu unterstützen! Für Freigetränke und Fingerfood ist gesorgt.
Webpage with more details: https://www.ecogood.org/gemeinwohl-fest
More info: https://www.ecogood.org/allgemeine-infos/aktuelles/neuigkeiten/ein-fest-fuer-das-gemeinwohl-850-gaeste-feierten-im
Organiser Name: Gemeinwohl Ökonomie
Organiser Website: https://www.ecogood.org/
Organiser Facebook Page: https://www.facebook.com/Gemeinwohl.Oekonomie/
Organiser Twitter url: https://twitter.com/EconCommonGood