Date/dates: 26/11/2015
Time: 5:30 p.l. - 8:00 p.l.

---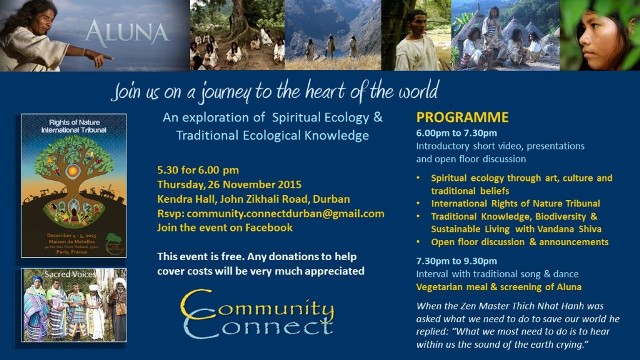 JOURNEY TO THE HEART OF THE WORLD
An exploration of Spiritual Ecology & Traditional Ecological Knowledge
TIME: 5.30 for 6.00 pm
DATE: Thursday, 26 November 2015
VENUE: Kendra Hall, John Zikhali Road, Durban
RSVP: community.connectdurban@gmail.com
Join event on Facebook: https://www.facebook.com/events/878006835587528/
This event is free. Any donations to help cover costs will be much appreciated
PROGRAMME
Introductory short video, presentations & open floor discussion on:
Spiritual ecology through art, culture & traditional beliefs
International Rights of Nature Tribunal
Traditional Knowledge, Biodiversity & Sustainability
Open floor discussion & announcements
Interval with traditional song & dance
Dinner & screening of Aluna
ABOUT THIS EVENT: Aluna is a unique film that brings us a message from the Kogi, a genuine lost civilization who have remained hidden in the remote Sierra Nevada de Santa Marta Mountains of Colombia for centuries, and are thought to be the only civilisation to have survived culturally intact since the time of the Incas and Aztecs. They have no wheel, no written word, and no language any outsider can speak, but nonetheless possess a wealth of indigenous knowledge lost from the modern world.
They see themselves as the 'elder brothers' of humanity and guardians of the Earth while we are the 'younger brothers'. The message they send is a warning to stop destroying the Earth and to change our ways if humanity and the world are to survive. The resulting film is a beautifully shot and poignant revelation of one of the world's last uncorrupted indigenous civilisations. But what makes the film so special is that it isn't a documentary about the Kogi – it's a documentary by the Kogi about us.
The Kogi introduce us to the age old wisdom of indigenous communities and provide an opportunity to discover our own spiritual ecology through local traditional knowledge, art, culture and beliefs. Indigenous people around the world have been hugely instrumental in the global movement to recognise the Rights of Nature and the programme will be highlighting the International Rights of Nature Tribunal, a unique, citizen-created initiative that gives people from around the world the opportunity to testify publicly on the destruction of the Earth. The Tribunal will be held in conjunction with COP21 being held in Paris, 30 November to 11 December and will be formally established on 4 December 2015.
PARTICIPATING ORGANISATIONS: Food for Life Children's Projects; Ghandi Development Trust (GDT); Tibetan Society of South Africa (TSSA); 350.org Durban; Earthlife Africa Durban; Diakonia Council of Churches; SAFCEI; The Green Camp Project; Citi-Zen Gardens; Greenpeace Volunteers Durban; International Centre of Nonviolence (ICON); Seeds of Unity
Facebook Event: https://www.facebook.com/events/878006835587528/
More info: http://seedfreedom.info/partners/citizen-gardens-south-africa/
Organiser Name: COMMUNITY CONNECT
Organiser email: community.connectdurban@gmail.com
Organiser Facebook Page: https://www.facebook.com/CzenGardens/?fref=ts