Date/dates: 10/11/2015
Time: 3:00 p.l. - 8:00 p.l.

---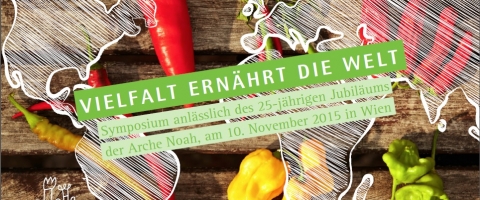 Was hat Kulturpflanzenvielfalt mit nachhaltiger Landwirtschaft zu tun?
Kann man als LandwirtIn mit Vielfalt ein Auskommen finden? Braucht
Europa noch mehr Monokulturen, um "die Welt ernähren" zu können?
Kann die Kulturpflanzenvielfalt zur Erreichung der globalen nachhaltigen Entwicklungsziele der UN beitragen?
Mit Spannung erwarten wir dazu u.a. die Beiträge von
Vandana Shiva, Trägerin des alternativen Nobelpreises
Chee Yoke Ling, Direktorin des Third World Network
Benedikt Haerlin von der Zukunftsstiftung Landwirtschaft
Margit Mayr-Lamm vom oberösterreichischen Biobetrieb Fairleben
Rahmenprogramm:
special guest "Fräulein Brehms Tierleben" // Radikale Natur-Küche mit Sorten-Raritäten von Slow-Koch & Autor Johann Reisinger // Verkostung alter Obstsorten
Kosten
Gegen freiwillige Spende
Dauer
Einlass ab 14:30
Programm 15:00-20:00
Weitere Infos

 Hier erfahren Sie mehr über das Symposium
---
What crop diversity is related to sustainable agriculture?
Can a farmer have a livelihood based on diversity? Does Europe need even more monoculture in order to "feed the world"?
Can crop diversity contribute to the achievement of the global sustainable development goals of the UN?
We eagerly await to include the contributions of
Vandana Shiva, winner of the Alternative Nobel Prize
Chee Yoke Ling, director of the Third World Network
Benedikt Haerlin of the Foundation on Future Farming
Margit Mayr-lamb by the Upper Austrian organic farm life Fair
---
Press coverage
Kurier, 12 Navember 2015
N21, 14 November 2015
N21, 26 November 2015
Lebensart, 12 December 2015
---
#ThankYou for a wonderful talk tonight at symposium #Diversity Feeds The World @drvandanashiva #GMOfree #seedfreedom pic.twitter.com/1RjmHfAmE0

— What About Us (@WAU_WhatAboutUs) November 10, 2015
Webpage with more details: https://www.arche-noah.at/kalender/termin-im-detail?eid=1573
More info: https://www.arche-noah.at/symposium/das-symposium-und-programm
Organiser Name: Arche Noah
Organiser email: https://www.arche-noah.at/kontakt
Organiser Website: https://www.arche-noah.at/