Date/dates: 23/04/2016 - 28/04/2016
Time: 2:30 p.l. - 6:30 p.l.

---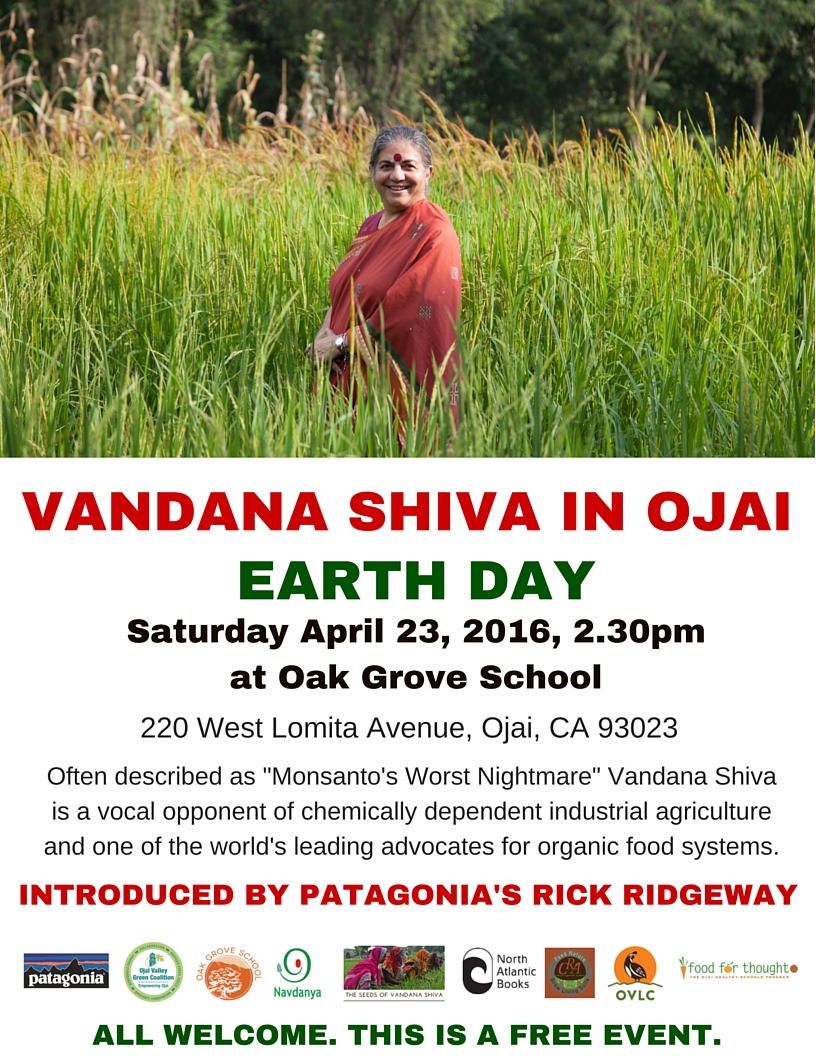 UC Food Observer, 6 July 2016
---
#Seed is the source of life & must be free & available to all, not to a few corporations @DrVandanaShiva in #Ojai pic.twitter.com/IKyH6scdqM

— Seed Freedom (@occupytheseed) April 23, 2016
---
A Landmark Conference at Pacifica Graduate Institute's Ladera Lane Campus
Governments may fail, we cannot—So we made a #PeoplesPact to #HealTheEarth https://t.co/DPFYi3qluR @drvandanashiva pic.twitter.com/imoRHZdii8

— Seed Freedom (@occupytheseed) April 24, 2016
---
First Congregational Church, Berkeley – Presented by KPFA Radio 94.1 FM
Fertilizers kill H2O-holding structure of as well as microorganisms in soil.

—Q&A w/ Vandana Shiva, #Berkeley pic.twitter.com/hrMwpHnIdw

— coiléan ó múrchú (@coileanomurchu) April 28, 2016
"Under globalization, the more educated people get, the less they think" — Vandana Shiva @kpfa @navdanya pic.twitter.com/Hjhw2wKTHX

— Monisha Bajaj (@monishabajaj) April 28, 2016
"I don't only focus on resistance; I also create, I plant. Immerse yourself in community". –Vandana Shiva @kpfa pic.twitter.com/2Y1E6PfkMF

— Monisha Bajaj (@monishabajaj) April 28, 2016
---
At Soka University, Aliso Viejo
---
Ojai's annual Earth Day celebration event announcement
Vandana Shiva will headline Ojai's annual Earth Day Festival on Saturday April 23 at Oak Grove School!
She will speak at 2.30pm and will be introduced by Rick Ridgeway.
Often described as Monsanto's worst nightmare, Dr. Shiva is a vocal opponent of chemically dependent industrial agriculture and one of the world's leading voices in defense of organic and regenerative food systems.
Her numerous awards include the Right Livelihood Award, The Lennon ONO Grant for Peace Award and The Earth Day International Award.
Time Magazine has identified Vandana Shiva as an "Environmental Hero," Asia Week describes her as one of Asia's five most powerful communicators and Forbes Magazine has identified her as one of the "Seven Most Powerful Women on the Globe."
She is the author of more than twenty books including, most recently, Seed Sovereignty, Food Security, published by North Atlantic Books (2016).
Her life story is also the subject of a documentary film, The Seeds of Vandana Shiva, in post-production with Ojai based film company Becket Films, scheduled for release in October 2016.
Multi award winning writer and filmmaker, Rick Ridgeway oversees Patagonia's environmental and sustainability initiatives. He is a legendary mountaineer and adventurer, and the first American to ascend K2. National Geographic has honored him with its "Lifetime Achievement in Adventure" award.
This is going to be a great event. See you there!
---
Related Campaigns
---
Webpage with more details: (soon to appear on vandanashivamovie.com
Facebook Event: https://www.facebook.com/events/822490711196569/
More info: http://www.ojaiearthday.org/
Organiser Name: Becket Films and Oak Grove School
Organiser email: camilla@becketfilms.com
Organiser Website: vandanashivamovie.com
Organiser Facebook Page: https://www.facebook.com/The-Seeds-of-Vandana-Shiva-323657841114885/
Organiser Twitter url: https://twitter.com/BecketFilms