Date/dates: 22/02/2020 - 29/02/2020
Time: All Day

---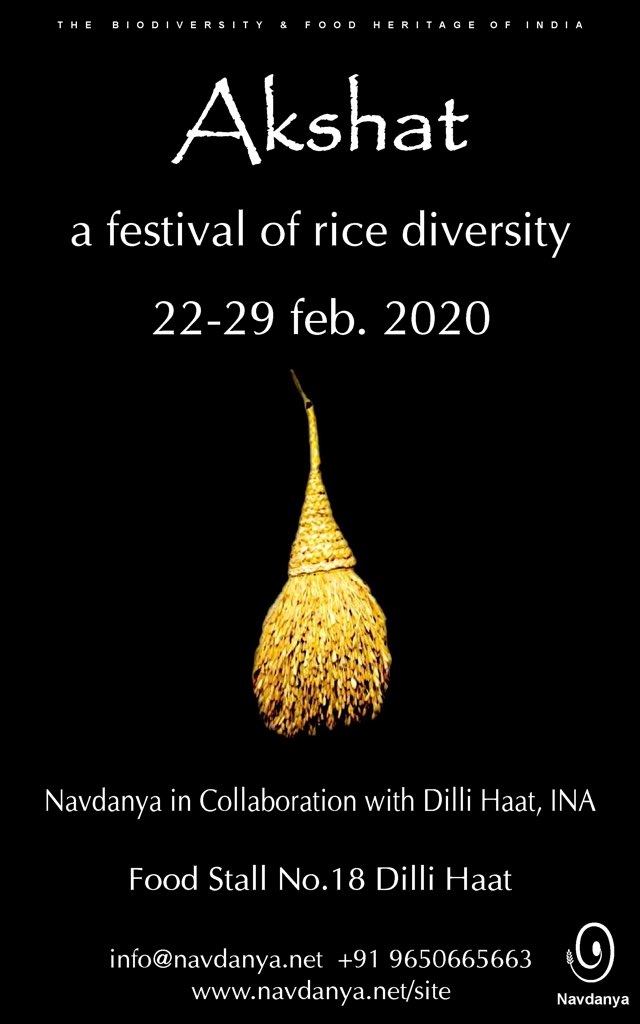 For over three decades Navdanya has been conserving and rejuvenating nature's immensely biodiverse food basket and our vibrantly rich cultural diversity. For us, at Navdanya, food, its production, its transformation and its distribution, is a matter of celebration of our crop diversity and our food cultural diversity.
Join us from 22nd to 29th Feb at Dilli Haat, to see, feel & taste the diversity of #rice where @NavdanyaBija has worked for last 33 years in conservation of paddy with communities in 22 states in #India @drvandanashiva @SwarajAnna @occupytheseed @NavdanyaInt pic.twitter.com/GzM59K0KPW

— Navdanya (@NavdanyaBija) January 22, 2020
Navdanya takes this opportunity to inform you about the festivals around the biodiversity and food heritage of India which we plan to organise at the Navdanya Food stall 18 in Dilli Haat (opp INA). This year to celebrate 2020, we are organising our first festival, Akshat, from the 22nd to 29th of February.
Unbroken and without flaws in one word is "#Akshat". From purple rice to red, from small grain to big it has its own charm. From plain rice to khichadi it gives us nutrition. #Akshat #Festival at Navdanya Dilli Haat. @drvandanashiva @SwarajAnna @NavdanyaInt @occupytheseed pic.twitter.com/htYcrsIVax

— Navdanya (@NavdanyaBija) January 26, 2020
We would like to welcome you to our Akshat festival  to celebrate with us the abundance of akshat and all that it gives us while savouring its goodness in all its diversity, across various dishes and processed foods.
Rice, akshat is a symbol of prana, breath and prosperity. For thousands of years akshat  has had a cultural resonance in Indian ethos. Each traditional variety has its own traditional and cultural significance. Festivals related to the different agricultural aspects in the village communities are associated with akshat.
.@NavdanyaBija has conserved 33 salt tolerant varieties. #Odisha salt tolerant rice land races have caused miracle, on an average has produced 35-54 tillers in the SRI method. @drvandanashiva #Akshat #livingseed @SwarajAnna @NavdanyaInt @occupytheseed pic.twitter.com/tri9ge8K2d

— Navdanya (@NavdanyaBija) February 6, 2020
Akshat has its origin in the Indian soil as the term sativa indica indicates; it has been  weaving the cultural and social fabric of India since millennia.
From a wild aquatic grass, Indian farmers, over the centuries, selected and cultivated thousands of varieties of rice. The varietal diversity of cultivated rice in India can be considered to be the richest in the world, a diversity of 2,00,000 varieties. Navdanya farmers have  conserved  more than 4000 of these varieties.
In last 20 years.@NavdanyaBija has conserved 54 flood tolerant varieties in Odisha. Of these 8 varieties are extremely water tolerant. These varieties are being conserved and multiplied at Navdanya's biodiversity conservation farm and Seed Bank in Odisha. @drvandanashiva pic.twitter.com/GN8jvxRthn

— Navdanya (@NavdanyaBija) February 5, 2020
Our program is as follows:
22nd – 29th February:  Come and enjoy special diverse and festive dishes made from indigenous rice
25th to 27th February:  Come and watch our Navdanya women farmers from Bengal & Odisha as they make moori; alpana and delicious savoury and sweet dishes from rice.
28th -29th February:  As we come to a close, we will serve you all the various delicacies prepared during the Akshat festival.
For more information: www.navdanya.org/site ; @NavdanyaBija
when farmers have their own renewable, regenerative seed, they can replant after a climate disaster, which contributes to both climate resilience & economic resilience. @drvandanashiva #NoPatentsonSeeds #livingseed #livingeconomy #Akshat @SwarajAnna @NavdanyaInt @occupytheseed pic.twitter.com/2NqKeJ9I3G

— Navdanya (@NavdanyaBija) February 3, 2020
.@NavdanyaBija farmers has diverse ecosystems, rained, drought resistant #paddy which can grow with minimum use of water, in #westbengal #odisha. @drvandanashiva @SwarajAnna @occupytheseed @NavdanyaInt pic.twitter.com/KVDUcnnWQ5

— Navdanya (@NavdanyaBija) January 31, 2020
Rice is the most important grain with regard to human nutrition & caloric intake, providing more than one-fifth of the calories consumed worldwide by humans.There are many varieties of rice & culinary preferences tend to vary regionally. #Akshat @drvandanashiva @SwarajAnna pic.twitter.com/TtNeSgXL6x

— Navdanya (@NavdanyaBija) January 30, 2020
From different colours to flavours to aroma to size & shape they never fail to surprise us with its unique quality. Lets make Akshat celebration a grand one as they deserve it. Come, join us in dilli haat to celebrate our culture, colours& diversity of our rice.@drvandanashiva pic.twitter.com/16uHL8s572

— Navdanya (@NavdanyaBija) January 24, 2020
Aromatic rice varieties have the ability to sustain in water deficit conditions (semi drought) unlike other normal longer days duration paddy varieties. #diversity of #rice 750 varieties @NavdanyaBija. #biodiversity @drvandanashiva. Visit Navdnaya Dilli Haat from 22nd to29th Feb pic.twitter.com/xqdbx7NVP8

— Navdanya (@NavdanyaBija) January 21, 2020
.@NavdanyaBija strives to empower communities by improving the well being of small & marginalized rural farmers through non violent biodiverse #organicfarming & #fairtrade. @drvandanashiva Akshat at Dilli Haat 22nd to 29th Feb. @NavdanyaInt @SwarajAnna @occupytheseed pic.twitter.com/HLfiBFDVCt

— Navdanya (@NavdanyaBija) January 20, 2020
.@NavdanyaBija Women farmers of Bengal celebrate #MakarSankranti -festival of #biodiversity & #abundance of the new harvest of paddy, agriculture tools & delicacies of rice. Join us in Dilli Haat in celebrating the #AkshatFestival with women from Bengal 22-29Feb @drvandanashiva pic.twitter.com/k9nj71rC5K

— Navdanya (@NavdanyaBija) January 18, 2020
We welcome you to our #rice #festival Akshat at Navdnaya Food stall,Dilli Haat join us to see, smell & taste the rich #biodiversity of 4000 varieties of rice, conserved by.@NavdanyaBija for last 3 decades. @drvandanashiva @NavdanyaInt from 22nd to 29th Feb. @SwarajAnna pic.twitter.com/tnGnt2IKGD

— Navdanya (@NavdanyaBija) January 17, 2020
Webpage with more details: https://www.facebook.com/navdanyacafe/

Organiser Name: Navdanya
Organiser Contact url: http://www.navdanya.org/contact
Organiser Website: http://www.navdanya.org
Organiser Facebook Page: https://www.facebook.com/vandanashiva.navdanya/
Organiser Twitter url: https://twitter.com/NavdanyaBija
Location:
Navdanya Organic Slow Food Restaurant and Shop
Dilli Haat Shop No. 18, Opp. INA Market - New Delhi
Delhi - Inde
More Events at this location