Date/dates: 03/10/2015
Time: 2:00 - 6:00

---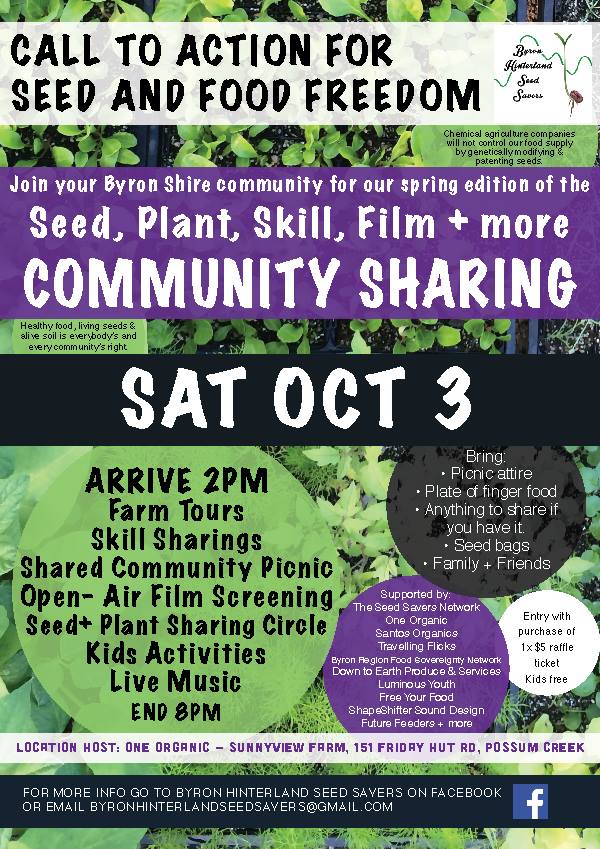 Come together community for the spring edition of our sharing.
This very special event is part of the global movement towards Seed and Food Freedom to promote and raise awareness about living seed and living soil. The two things human's can not do without, but which chemical agriculture companies are seeking to control.
On offer this event: seeds, plants, knowledge, skills, kids activities, a community picnic, live music and an open air-film.
Bring:
Picnic attire
A plate of finger food to share
Anything you want to share
Bags/ boxes for seeds and plants
Family and friends
Entry with the purchase of 1x $5 raffle ticket.
Kids free
This is a community event sponsored and supported by:
The Seed Savers Network, One Organic, Santos Organics, Travelling Flicks, Luminous Youth, Free Your Food, Down to Earth Produce & Services, Shapeshifter Sound Design, Future Feeders, Byron Region Food Sovereignty Network and more.
Facebook Event: https://www.facebook.com/events/446938758827155/

Organiser Name: Byron Hinterland Seed Savers & others
Organiser email: byronhinterlandseedsavers@gmail.com
Organiser Facebook Page: https://www.facebook.com/pages/Byron-Hinterland-Seed-Savers/481977261875927