Date/dates: 16/02/2016
Time: 11:00 am - 12:00 pm

---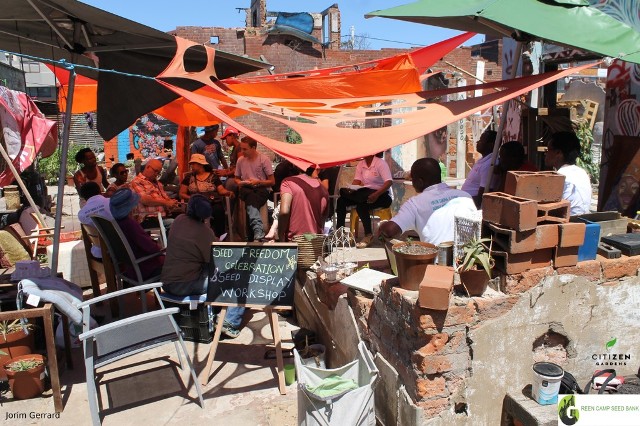 As part of 'Silence at The Green Camp' event there will be a 'Gardens of Hope Ceremony'. From 11am till 12pm.
Programme:
*Signing of the PACT FOR THE EARTH TEN-POINT PLEDGE
*Sow the seeds of peace -peace with the earth and each other, create hope for our future – as one humanity and as part of one Earth community.
All are welcome to attend this special ceremony. 2016 is the year of Pulses.
Silence at The Green Camp
What do you hear in the silence?
Continuing the GREEN 16 campaign #GREEN16
Mindfulness.
Tuesday the 16th of February you will enter a Green Camp dressed in one of it's most beautiful gowns – silence.
Be yourself, in company. Experience every square centimeter of The Green Camp in your own pace. Feel the soil, look at the art, create art, smell the plants, see someone in the eyes, close your eyes, breath.
Let's plunge into the silence, together. Enjoy.
In a quite matter we will have a second hand store, juice and smoothie bar and a silent movie.
The door is open the whole day.
Facebook Event: https://www.facebook.com/events/1142678429076398/
More info: http://seedfreedom.info/partners/citizen-gardens-south-africa/
Organiser Name: Green Camp Seed Bank
Organiser email: greendelwyn@gmail.com
Organiser Website: http://www.citizenoftheworld.me/#!citizens-gardens/c21ji
Organiser Facebook Page: https://www.facebook.com/ID-Green-Camp-Gallery-Project-396449330490604/