Date/dates: 14/08/2014
Time: 6:30 pm - 7:30 pm

---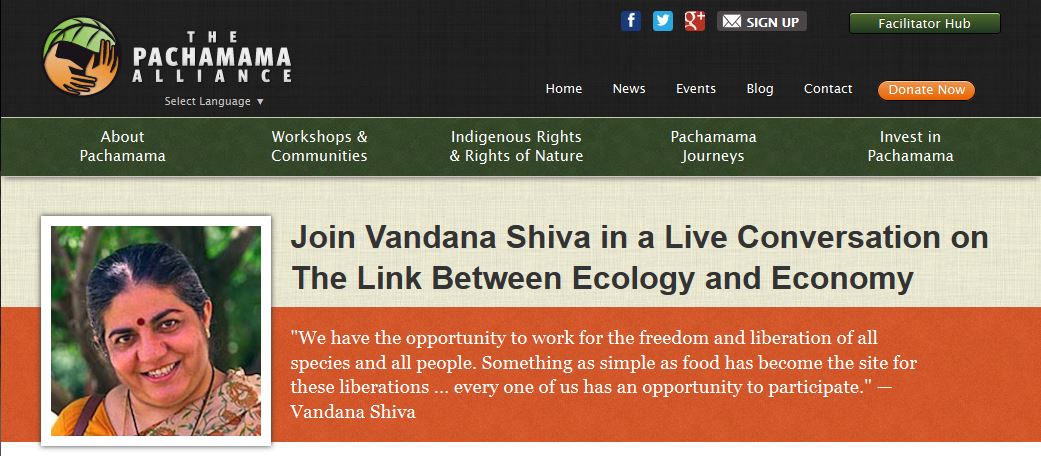 Thursday, August 14th, 6:30pm PT (view other time zones)
Join us for a live online conversation with Vandana Shiva on the link between ecology and economy! RSVP here: www.pachamama.org/vandana-shiva
Vandana Shiva will join Moderator Konda Mason in conversation about the link between economy and ecology and how to rebuild culture and community. Together, we will learn what it means to have a living culture, living economy, and living democracy and how we can transform a society into one that uses indigenous knowledge, preserves culture, and nourishes our souls. You will also receive specific and tangible tools you can utilize in your own community.
Prepare for the Call
To foster a deeper conversation, watch Vandana's Festival of Dangerous Ideas 2013 speech titled Growth=Poverty, and read her new book Earth Democracy: Justice, Sustainability and Peace.
Webpage with more details: http://www.pachamama.org/vandana-shiva

Organiser Name: The Pachamama Alliance
Organiser email: http://www.pachamama.org/about/contact
Organiser Website: http://www.pachamama.org/
Organiser Facebook Page: https://www.facebook.com/PachamamaAlliance
Organiser Twitter url: https://www.facebook.com/PachamamaAlliance