Date/dates: 09/10/2015 - 11/10/2015
Time: 8:00 pm - 12:30 pm

---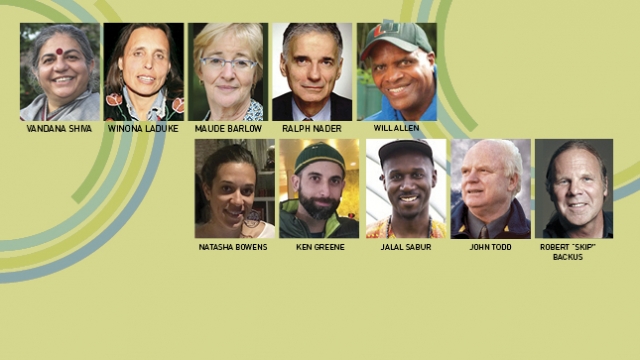 SEEDS OF CHANGE CONFERENCE OCTOBER 9-11, 2015
Over the past decade, presenters and participants at the Omega Center for Sustainable Living's conferences have added an important voice to the national conversation on our environmental, economic and social challenges and opportunities..
By bringing together thought leaders and activists working on diverse and interconnected issues central to a more regenerative future, a compelling and hopeful vision is emerging toward a socially just, inclusive, and ecologically sustainable society
This year Omega continues the conversation with Seeds of Change: Cultivating the Commons.Vandana Shiva and Winona LaDuke will be back, joined by renowned water advocate Maude Barlow, consumer activist and political commentator Ralph Nader, ecological visionary John Todd, and grassroots seed freedom and food justice advocates Ken Greene, Natasha Bowens, Jalal Sabur, and Will Allen.
Whether you are already working closely with these issues, or are interested in learning more, we invite you to be part of a growing community coming together to protect and care for the commons, including the pivotal right to save and share seeds, the necessity of stewarding our water resources, as well as transparency in labeling and access to healthy food.
Saturday evening features a free public event with Vandana Shiva, Winona LaDuke, Ralph Nader, and Maude Barlow followed by music with Spiritchild.
Sunday morning sessions: FOOD JUSTICE FROM SEED TO MARKET, will be available for free via live stream for those unable to attend in person. Register at bit.ly/2015seeds
Scholarships are available for this program. Speakers are subject to change. See eOmega.org/seeds.
---
---
TIMELINE (NEWEST – OLDEST)
#seedingchange w @MaudeBarlow @WinonaLaduke @drvandanashiva @RalphNader a call to deepen #civicengagement pic.twitter.com/Gu9oOCZV7N

— Jodi Koberinski (@JodiKoberinski) October 12, 2015
---
https://twitter.com/earlymama/status/652666225164701697
We must create a new equality–turn hierarchies into horizontal relationships. Diversity is liberation. @drvandanashiva #OCSL #SeedingChange

— Omega Institute (@omega_institute) October 10, 2015
That is important. Start with something #green you can do today. Otherwise you'll just be overwhelmed. @drvandanashiva #ocsl +Celebrate!

— Mat McDermott (@matmcdermott) October 10, 2015
Reinvent and rediscover every legacy of our traditional wisdoms—@drvandanashiva #OCSL #seedingchange #ecojustice #DoPowerDifferently

— Leona Palmer (@leonapalmer) October 10, 2015
We are all Earth citizens, part of one humanity. Recogizing this is our 1st responsibility @drvandanashiva #OCSL #SeedingChange #FoodJustice

— Omega Institute (@omega_institute) October 10, 2015
The world we are shaping is a world of peace and hope & in today's world that is radical @drvandanashiva #OCSL #SeedingFreedom #FoodJustice

— Skip Backus (@SkipBackus) October 10, 2015
Creativity happens at the margins. Without fear, with hope. @drvandanashiva #SeedingChange

— Mat McDermott (@matmcdermott) October 10, 2015
@omega_institute #SeedingChange @drvandanashiva Seed diversity is the way that nature expresses freedom.

— Keri Pickett (@keripickett) October 10, 2015
In ecosystems creativity bursts from the margins–we need a new solidarity of the excluded @drvandanashiva #OCSL #SeedingChange #FoodJustice

— Omega Institute (@omega_institute) October 10, 2015
Dr Vandana Shiva's opening keynote: spreading the seeds of inspiration @drvandanashiva #OCSL #seedingchange pic.twitter.com/thsqo3ma4Z

— Aresh Javadi (@moregardens) October 10, 2015
Both lose in industrial agriculture. Farmer is paid less for growing food and the populace has to pay more to eat.—@drvandanashiva #OCSL

— Leona Palmer (@leonapalmer) October 10, 2015
GMOs are being pushed on people. US states are being denied the right to labeling. @drvandanashiva #OCSL #SeedingChange #FoodJustice

— Omega Institute (@omega_institute) October 10, 2015
FYI "Sir Albert Howard and The Indore Process" http://t.co/P1YchngIqy #ocsl #SeedingChange

— Mat McDermott (@matmcdermott) October 10, 2015
.@drvandanashiva recommends reading the work of Albert Howard. #SeedingChange https://t.co/7Z2Tgai2zS

— Sustainable Queens (@SustyQ) October 10, 2015
Resource used to mean that which is renewed on it's own. Not capital.—@drvandanashiva #OCSL #seedingchange #ecojustice #DoPowerDifferently

— Leona Palmer (@leonapalmer) October 10, 2015
When economy denies public good: 1. Privatization of commons 2. Stealing democracy 3. Real insecurity—@drvandanashiva #OCSL #SeedingChange

— Skip Backus (@SkipBackus) October 10, 2015
"If the world went organic in 5 years, we could get all the pollution out." –@drvandanashiva #OCSL #SeedingChange

— Omega Institute (@omega_institute) October 10, 2015
"40 percent of all emissions comes from industrial agriculture." –@drvandanashiva #OCSL #SeedingChange

— Omega Institute (@omega_institute) October 10, 2015
From Syria, to Nigeria, @drvandanashiva explains connections between #climate #drought & rise of #IslamicState #ocsl

— Mat McDermott (@matmcdermott) October 10, 2015
Let's join @drvandanashiva & take a pledge of nonviolence in relationship to our soil. #OCSL #SeedingChange

— Omega Institute (@omega_institute) October 10, 2015
We are the soil & we forget that reality at a huge cost. @drvandanashiva #OCSL #SeedingChange #FoodJustice

— Omega Institute (@omega_institute) October 10, 2015
How can practice of putting toxics in food be free speech? It's a crime & that's how it should be treated—@drvandanashiva #OCSL #foodjustice

— Leona Palmer (@leonapalmer) October 10, 2015
How can poisoning food be freedom of speech? @drvandanashiva asks. #gmofree #ocsl #SeedingChange (Re: VT labelling law)

— Mat McDermott (@matmcdermott) October 10, 2015
Nature does not create pests. Weeds are Source of food, medicine & fodder for animals. @drvandanashiva #seedingchange pic.twitter.com/d88ffVVcK8

— Leona Palmer (@leonapalmer) October 10, 2015
There are no pests in nature. There is #biodiversity. There are no weeds. There is biodiversity ~@drvandanashiva #SeedingChange #agriculture

— Anandi A. Premlall (@AAPremlall) October 10, 2015
#Farming is good work. Growing food on small farms feeds people. What creates is #nature. @drvandanashiva #SeedingChange #foodjustice

— Anandi A. Premlall (@AAPremlall) October 10, 2015
Capital is a construct. Nature creates. Seed is at the heart. @drvandanashiva #OCSL #SeedingChange #FoodJustice pic.twitter.com/V7ghnQuh5u

— Omega Institute (@omega_institute) October 10, 2015
@VandanaShiva #SeedingChange at @omega_institute #keynote #colonialism gave us an illusion we are apart from nature. pic.twitter.com/r5bWD93Rzx

— Keri Pickett (@keripickett) October 10, 2015
Everything is connected. Each of us is everyone's context. Each of us are seeds of change. @drvandanashiva #OCSL #SeedingChange #FoodJustice

— Omega Institute (@omega_institute) October 10, 2015
.@drvandanashiva We're in the last gasps of colonialism + world order that has led to our unsustainable worldview #ocsl #seedingchange

— Mat McDermott (@matmcdermott) October 10, 2015
Webpage with more details: http://www.eomega.org/seeds
Facebook Event: https://www.facebook.com/events/1248023355223496/
More info: 845-266-4444 x386
Organiser Name: Omega Institute
Organiser email: lauraw@eomega.org
Organiser Website: http://www.eomega.org/ocsl
Organiser Facebook Page: https://www.facebook.com/Omega.OCSL
Organiser Twitter url: https://twitter.com/omega_institute