Date/dates: 17/10/2015
Time: All Day

---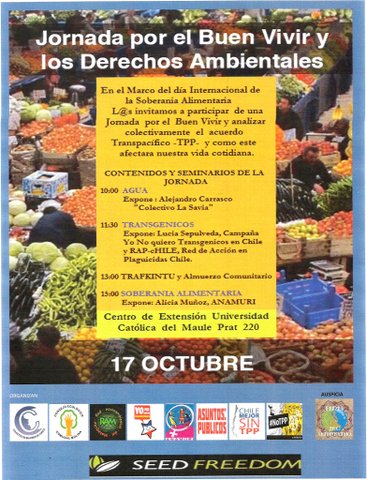 Celebrating Food Sovereignty Day we are holding this event on Good Living and we will discuss and analize TPP treaty´s impacts on our lives. This will take place in the Community Center of Universidad Catolica del Maule (Prat 220).
Alejandro Carrasco, a member of  La Savia organization will talk about Water.
Lucia Sepulveda will talk about GMO cultures on behalf of the campaing Yo No Quiero Transgenicos en Chile and Pesticide Action Network Chile.
Then there will be a "Trafkintu", that is  seed exchange according the traditional way as designed by originary mapuche people.
After lunch, Alicia Muñoz, on behalf of ANAMURI will talk about food sovereignty.
Facebook Event: https://www.facebook.com/events/908175922605909/

Organiser Name: Colectivo Mujeres Curico, local organizations and YNQT
Organiser Facebook Page: https://www.facebook.com/profile.php?id=100009880758567