Date/dates: 10/10/2015
Time: All Day

---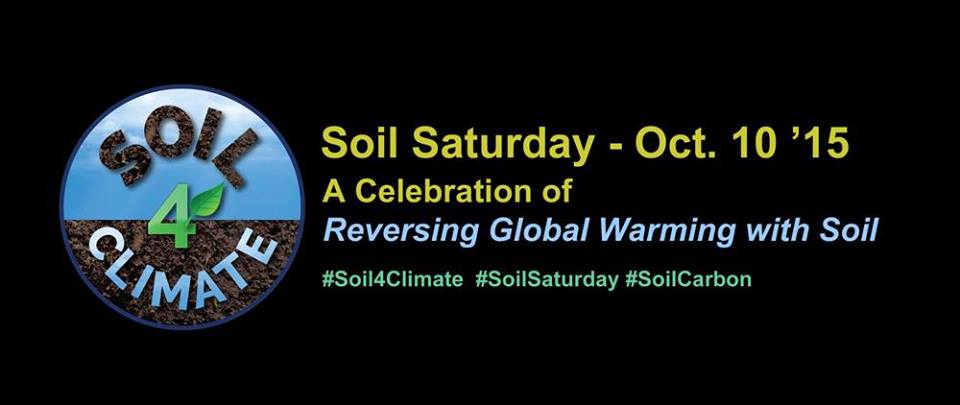 Dear Friends,
Please join us in recognizing Saturday, October 10th, 2015, as Soil Saturday: A Celebration of Reversing Global Warming with Soil. Activities planned for the day will promote soil as our ecological ally, a key "second front" in the climate movement.
[Click "going" on the Facebook event page: https://www.facebook.com/events/559598744189515/https://www.facebook.com/events/559598744189515/  just means that you are standing with soil as a climate ally and will do what you can on Soil Saturday – or any day that suits you – to advance the message.]
According to the Intergovernmental Panel on Climate Change, the worst consequences of global warming can be prevented only by a significant and rapid drawdown of carbon from the atmosphere. Reducing — or even eliminating — emissions from fossil fuel combustion will not stop the warming. To secure a livable climate, both emission reductions and atmospheric carbon drawdown are crucial. The best way to achieve drawdown is through photosynthesis and the rebuilding of the world's soils – the largest reservoir of terrestrial carbon.
On Soil Saturday, soil advocates are encouraged to promote this message. This can be done by hosting events, writing blog posts, tweeting, or posting photos of "Soil4Climate" signs made and displayed in creative ways. Any post, picture, or illustration emphasizing the role of soil should be posted with appropriate tags (see suggestions below).
In 2007, the climate movement launched a successful campaign to encourage propagation of the number "350", the highest concentration (in parts per million) of carbon dioxide in the atmosphere considered "safe". "350" photos from around the world flooded social media. To complement this effort and create a movement leading to dialogue and policy that will reverse global warming (and not just slow it down), awareness of soil as a climate solution must grow.
We invite — and need! — your participation. Together, we can elevate soil to its rightful place in the climate narrative. Please do what you can.
Cool regards,
Soil4Climate
#Soil4Climate. #SoilSaturday #SoilCarbon #ClimateSolutions #RegenerativeAg
Webpage with more details: https://www.facebook.com/events/559598744189515/
Facebook Event: https://www.facebook.com/events/559598744189515/

Organiser Name: Soil4Climate
Organiser Facebook Page: https://www.facebook.com/groups/Soil4Climate/