Date/dates: 01/05/2017 - 03/05/2017
Time: All Day

---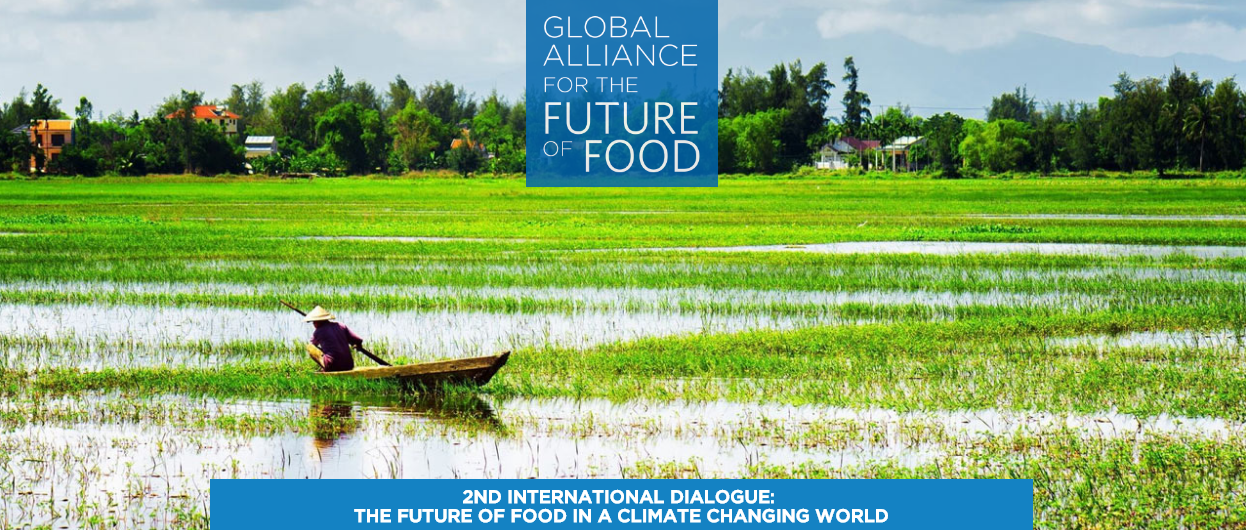 Way to #BuildResilience to #ClimateChange is keeping #Seeds in #FarmersHands & not techno fixes #GAID2017 https://t.co/544gpGI0HX pic.twitter.com/fF8TOZEglv

— Seed Freedom (@occupytheseed) May 2, 2017
Way to #BuildResilience to #ClimateChange is #Biodiversity based #EcologicalAgriculture, not techno fixes #GAID2017 https://t.co/544gpGI0HX pic.twitter.com/4SldcYsPOS

— Seed Freedom (@occupytheseed) May 2, 2017
WHAT ARE THE FOOD SYSTEMS WE NEED NOW AND INTO THE FUTURE IN A CLIMATE CHANGING WORLD?
If we as a global community are going to meet our Paris commitments and realize a climate- and food-positive future, we must navigate potential obstacles and opportunities and weigh associated environmental, economic, social and cultural implications, together.
In early May 2017 the Global Alliance for the Future will bring together 250 experts and leaders from the local to the global to gain deeper insights into the connections between climate change and food systems, to craft visions of the food systems we need today and tomorrow, and to chart potential pathways to get there.
Programme highlights:
Opening Plenary on climate science, policy, and impacts, including how our climate outlook impacts critical food systems issues such as equity, health, migration, political unrest, hunger.
The launch of a major research study on Climate Change and Food Systems with recommendations on global and national climate responses to mitigate climate change in order to avoid catastrophic global temperatures, and to create an environment in which food systems can indeed be resilient and adapt.
Plenaries on frameworks for change from Philanthropy, Business, Government, Civil Society, and Academia, showcasing solutions and climate-positive pathways to change.
Breakout sessions on how to harness the power of True Cost Accounting, Health and Well-being, Agrobiodiversity, Animal Agriculture, Beacons of Hope, and Food and Climate Movements toward a more climate friendly future of food.
An emphasis on dialogue, interaction, solutions, and realizing positive change.
Confirmed speakers include:
Payal Parekh, 350.org
Janos Pasztor, Executive Office of the Secretary-General, United Nations
Rajasvini Bhansali, International Development Exchange (IDEX)
Charlotte Streck, Climate Focus
Duncan Pollard, Nestlé
Olivia Yambi, IPES-Food
Chris Elliot, Climate Land Use Alliance (CLUA)
Raj Patel, LBJ School of Public Affairs, University of Texas
Alice Ruhweza, Vital Signs, Conservation International
Alexander Müller, TEEBAgriFood, UNEP
Francisca Acevedo, Comisión nacional para el conocimiento y uso de la biodiversidad (CONABIO)
Michael Hamm, Michigan State University
Phrang Roy, Indigenous Partnership for Agro-biodiversity and Food Sovereignty
Nori Ignacio, Southeast Asia Regional Initiatives For Community Empowerment (SEARICE)
Iain Wright, International Livestock Research Institute (ILRI)
Cecilia Rocha, Ryerson University
Peter Bakker, World Business Council on Sustainable Development (WBCSD)
Haripriya Gundimeda, ITT Bombay
Nadia El-Hage Scialabba, FAO
Ronnie Vernooy, Bioversity
Barbara Herren, Biovision Foundation
Shefali Sharma, Institute for Agriculture and Trade Policy (IATP)
Pat Mooney, ETC Group / IPES
Shalmali Guttal, Focus on the Global South
Million Belay Ali, Alliance for Food Sovereignty in Africa (AFSA)
Jessica Fanzo, Johns Hopkins University
Keith Tuffley, The B Team
Pavan Sukhdev, GIST Advisory, TEEBAgriFood UNEP
Ricardo Salvador, Union of Concerned Scientists
Webpage with more details: https://futureoffood.org/priority-initiatives/2nd-international-dialogue-future-food-climate-changing-world/

Organiser email: meenanallainathan@gmail.com
Organiser Website: https://futureoffood.org/
Organiser Twitter url: https://twitter.com/futureoffoodorg
Location:
CAPGEMINI CAMPUS LES FONTAINES
CAPGEMINI CAMPUS LES FONTAINES 67 route de Chantilly - Gouvieux
- Francia
More Events at this location