Date/dates: 22/10/2014
Time: 6:30 pm - 8:30 pm

---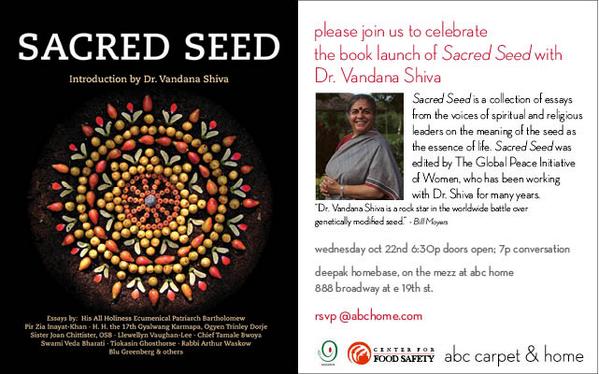 Please join us for a critical evening with Dr. Vandana Shiva
Dr. Shiva, in the words of Bill Moyers, is "a rock star in the worldwide battle over genetically modified seed."And In celebration of the new book, Sacred Seed
a collection of essays from the voices of spiritual and religious leaders on the poignancy of the seed- the essence of life –the integrity of which is  threatened, as  is its primal meaning.
Contributors include, Dr. Vandana Shiva, His All Holiness Ecumenical Patriarch Bartholomew, Pir Zia Inayat-Khan, H. H. the 17th Gyalwang Karmapa Ogyen Trinley Dorje, Sister Joan Chittister, Llewellyn Vaughan-Lee, Chief Tamale Bwoya, Swami Veda Bharati, Tiokasin Ghosthorse, Rabbi Arthur Waskow, Sobonfu Somé, Blu Greenberg, and others.
Sacred Seed was edited by The Global Peace Initiative of Women, who have been working with Dr. Shiva for many years. 
6:30p doors open; 7p conversation
deepak homebase, on the mezz at abc home
Webpage with more details: https://www.eventbrite.com/e/sacred-seed-with-dr-vandana-shiva-tickets-13441111727

Organiser Name: ABC Home
Organiser email: rsvp@abchome.com
Organiser Website: http://rsvp@abchome.com
Organiser Facebook Page: https://www.facebook.com/abccarpetandhome
Organiser Twitter url: https://twitter.com/abchome