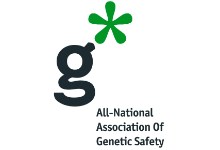 NAGS
National Association for Genetic Safety (NAGS) is russian non-profit organization, founded in 2004. NAGS's activities are aimed to contribute the protection of biological and genetic safety of humankind and the environment, and to promote sustainable development ideas in human consciousness.
GMOs
Since its foundation NAGS has had a great influence on the development of public debate concerning the safety of modern biotechnology, including GMOs, in Russia.
In 2008 NAGS in partnership with the Institute of Ecology and Evolution of A.N. Severtsov of Russian Academy of Sciences has conducted its own independent research on the impact of GMOs on the health of mammals. During the experiments hamsters, which were fed with GM soybean meal, were unable to reproduce a third generation of offspring.
In 2013 NAGS announced the start of preparation for the first international long-term study on the influence of GMOs on animals' health. The experiment will involve scientists from around the world. A working science group has been formed and the research protocol is ready. The experiment will take place in Russia. NAGS and its partners are going to launch a fundraising campaign to attract independent funding for the experiment very soon.
SUSTAINABLE DEVELOPMENT
In 2012 NAGS launched a separate project – environmental initiative "Emerald Planet". Its mission is to promote and realize the ideology of sustainable development. The projects' programs are aimed at the popularization of ideas of waste recycling, responsible consumption, efficient use of natural resources, development and implementation of new ecology technologies in all areas of industry and everyday life.
FOOD SAFETY
Since 2004 NAGS has implemented the project "Public control of the grocery market". NAGS conducts annual independent monitoring of food quality to defend interests of russian consumers. NAGS experts have found serious violations in foods from well-known russian and foreign manufacturers: dangerous bacteria and microorganisms, unauthorized food additives, genetically modified organisms (GMOs) without labeling in baby food etc. Such violations could cause serious health problems. NAGS has repeatedly confirmed the validity of its independent reviews in court, responding to complaints from leading russian and international manufacturers.
ORGANIC AGRICULTURE
NAGS supports the idea of the priority development of organic agriculture in Russia. NAGS's experts take part in creating legislative initiatives for the ecological agriculture system in Russia and makes recommendations for the russian authorities on the issue. NAGS pays special attention to the preservation of Russian agricultural breeds and varieties.
BIOLOGICALLY SAFE
Since 2008, NAGS has implemented a voluntary certification system "Biologically safe" to protect citizens' rights to high-quality and safe food. Products labelled "Biologically safe", are under constant independent supervision by NAGS. The labelled high quality food is beneficial to human health and does not contain substances that could be harmful to the body.
GENETIC DIVERSITY CONSERVATION
Preservation of unique varieties of crop plants and livestock breeds is the key to sustainable agricultural development. Today, the genetic heritage of Russia is under threat. NAGS pays special attention to the preservation of Russian livestock breeds and crop varieties.
---
| | |
| --- | --- |
| Email/Contact: | info[@]oagb.ru |
| | |
| Website: | |
| | |
| Facebook Page: | |
| | |
| Twitter url: | |
| | |
| Contact Person Name: | Nadezhda Novoselova |