–
This slideshow requires JavaScript.
Photos by The Hummingbird Project and Nissa Wargadipura
A Global Capacity Building Workshop every year is being held at the Navdanya Biodiversity Conservation farm for citizens' organizations and movements on seed saving, seed exchange and participatory breeding and the links between Seed Sovereignty and Food Sovereignty and issues of Intellectual Property Rights, Patents, Seed Monopolies and Farmers Rights at Dehradun with eminent scientists and environmentalists like Dr. Vandana Shiva, Dr. Salvatore Ceccarelli, Dr. Mira Shiva, Dr. Sultan Ismail, Andre Leu, President of IFOAM, Ronnie Cummins, Directors & Co-founder Organic Consumer Alliance (OCA ), Will Allen, Dr. JC Tarafdar, Dr. Vir Singh, Dr. V.P. Uniyal / Preeti Virkat, Dr. Vinod Kumar Bhatt, Dr. Av Singh, Mr. Hari Raj Singh, Ms. Marilyn McHugh, Mr. Chris Kennedy, R.S. Rawat, D.S. Negi, Bija Devi and the Navdanya team. More than a dozen specialists and 56 participants from all over of the world are joining this program this year.
The global capacity building workshop (A-Z on Agroecology) will conclude with the annual Earth Festival (Bhoomi Maati Maa: the Festival of The Living Soil) organized by Navdanya in New Delhi on 01/10/2015.
---
---
Week 1: Agroecology – What is Agroecology?
Introduction to Agroecology: A systems understanding of agiculture and food systems: relationship between Soil, Seed, Biodiversity, Climate, Health & Nutrition.
Week 2: Living soil – What is living soil?
The Soil Food Web, Renewal of Soil Fertility; composting and other methods to rejuvenate living soils.
Week 3: Living Seed – What is living seed?
Seeds and biodiversity, difference between traditional open pollinated seeds, Green Revolution varieties ,hybrids, GMOs, Why save seeds, participatory and evolutionary breeding, seed conservation, creating community seed bank and seed libraries.
Week 4: Living Food Systemsn – What is living food?
The health hazards of the industrial food system-pesticides,GMOs ,Junk food,Health, nutrition and ecological agriculture; the economics of local organic systems vs industrial global systems; Economic diversity and biodiversity of markets, issues of certification and participatory gurantee.
Week 5: Transition strategies from destructive, extractive agriculture to regenerative agriculture and Living Food Systems: Soil, Food & Climate Change, Soil, Food & Health, Soil, Food & Democracy.
Read more: http://www.navdanya.org/news/520-a-to-z-programme-on-organic-farming-and-agro-biodiversity-starts-at-dehradun
---
by Marcellina Dwi Kencana Putri – Mantasa, 8 September 2015
about the experience of the Indonesian group at Bija Vidyapeeth
---
---
TIMELINE (NEWEST – OLDEST)
#MahilaAnnaSwaraj members finish food processing training @NavdanyaBija @drvandanashiva pic.twitter.com/ywGWNWL2dm

— Indra Shekhar Singh (@IndraSsingh) February 20, 2016
A to Z garden makeover + brand new firepit @NavdanyaBija @occupytheseed @drvandanashiva @IndraSsingh @verolime pic.twitter.com/yr3g7NBI5N

— Eugenia Gemmo (@Gegemmo) February 20, 2016
#A-Z on #Agroecology & #OrganicFoodSystems completed @NavdanyaBija Vasundhara celebrated for #OrganicIndia2020 free of #GMOs&#Poisons

— Dr. Vandana Shiva (@drvandanashiva) September 30, 2015
Inspiring discussions today on #BeingTheChange at @NavdanyaBija's #Agroecology Course. pic.twitter.com/2dWnvzrvdf

— Hummingbird Project (@THProj) September 28, 2015
Learning about #Organic 3.0 from Andre Leu of @IFOAMorganic at @NavdanyaBija's A to Z course. pic.twitter.com/44FACIUk0b

— Hummingbird Project (@THProj) September 26, 2015
#AndreLeu, @IFOAMorganic, at @NavdanyaBija for #AZonAgroecology #LivingFoodSystems Week http://t.co/LkZdDN3Wy9 pic.twitter.com/FQhHMxtawh

— Seed Freedom (@occupytheseed) September 27, 2015
#RonnieCummings @OrganicConsumer at @NavdanyaBija – #AZonAgroecology #LivingFoodSystems Week http://t.co/LkZdDN3Wy9 pic.twitter.com/jOmz33N5cH

— Seed Freedom (@occupytheseed) September 27, 2015
Madav and Reenu Gulayi on Vedic tradition of food and Health #Az #navdanya #2015 pic.twitter.com/Td2BCHtR4Z

— Navdanya (@NavdanyaBija) September 25, 2015
Navdanya session #Dr.MiraShiva on #alternatives for #junk food,#GMObanana & #GoldenRice @drvandanashiva pic.twitter.com/h1WawJ9ghk

— Navdanya (@NavdanyaBija) September 21, 2015
@drvandanashiva @occupytheseed more young minds joining the #organicmovement pic.twitter.com/EhbUtRJ5cy

— Navdanya (@NavdanyaBija) September 17, 2015
@drvandanashiva talk with the youth at #dillihaat, #navdanyaorganiccafe pic.twitter.com/pEwc2w36cy

— Navdanya (@NavdanyaBija) September 17, 2015
@occupytheseed corporate rule has given us #hunger #diabetes #hypertension @drvandanashiva

— Navdanya (@NavdanyaBija) September 17, 2015
@occupytheseed 1%organic matter has 100,000litres water holding capacity @drvandanashiva preventing #drought

— Navdanya (@NavdanyaBija) September 17, 2015
@drvandanashiva uniformity leads to #wastage of #vegetables #seeds @occupytheseed

— Navdanya (@NavdanyaBija) September 17, 2015
@drvandanashiva genetic uniformity in plants are leading to allergies #glutenallergy @occupytheseed

— Navdanya (@NavdanyaBija) September 17, 2015
@drvandanashiva industrial system is based on uniformity, violating the diversity law of #organic @occupytheseed

— Navdanya (@NavdanyaBija) September 17, 2015
@occupytheseed @drvandanashiva industrial scale organic violates the philosophy of organic values of interdependence

— Navdanya (@NavdanyaBija) September 17, 2015
@drvandanashiva organic isn't just a label a philosophy of being related, that which is whole, based on the relationship of integrity

— Navdanya (@NavdanyaBija) September 17, 2015
#A-Z of #2015 at the #Navdanya#biodiversity#conservation#farm @drvandanashiva @occupytheseed pic.twitter.com/dxG56qfjkp

— Navdanya (@NavdanyaBija) September 17, 2015
#navdanya organic cafe #dillihaat, students talk with @drvandanashiva @occupytheseed pic.twitter.com/Tcpw1ojJZQ

— Navdanya (@NavdanyaBija) September 17, 2015
What the #A-Z course of #agroecology & #organicfoodsystems teaches us pic.twitter.com/bWWMUChXeW

— Navdanya (@NavdanyaBija) September 17, 2015
Working with the soil at #A-Z #2015 #Navdanya pic.twitter.com/4lonSkcFOO

— Navdanya (@NavdanyaBija) September 17, 2015
#A-Z of #2015 at #seedweek at #earthuniversity #salvatorececcarelli pic.twitter.com/qhWO1HwBe9

— Navdanya (@NavdanyaBija) September 17, 2015
–
Learning about #OrganicFarming & #Biodiversity during @NavdanyaBija's A-Z course. pic.twitter.com/7x8626oT4L

— Hummingbird Project (@THProj) September 4, 2015
Students from @mantasa_id sharing #Agroecology tips during @NavdanyaBija's A-Z course. pic.twitter.com/6cuJEeIYDt

— Hummingbird Project (@THProj) September 4, 2015
Learning from @drvandanashiva at the A-Z of #Agroecology course at @NavdanyaBija. #inspiring pic.twitter.com/uVHiRNsyed

— Hummingbird Project (@THProj) September 2, 2015
---
Related Calendar Event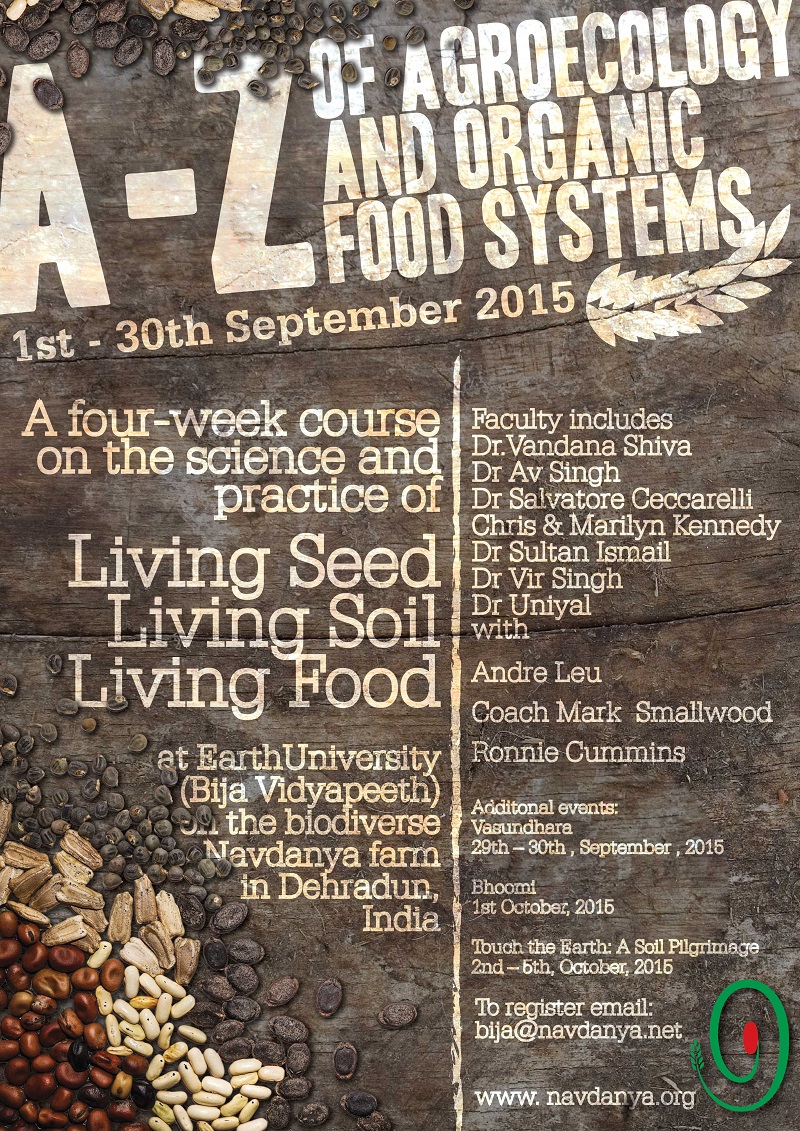 ---