Date/dates: 09/09/2018 - 11/09/2018
Time: All Day

---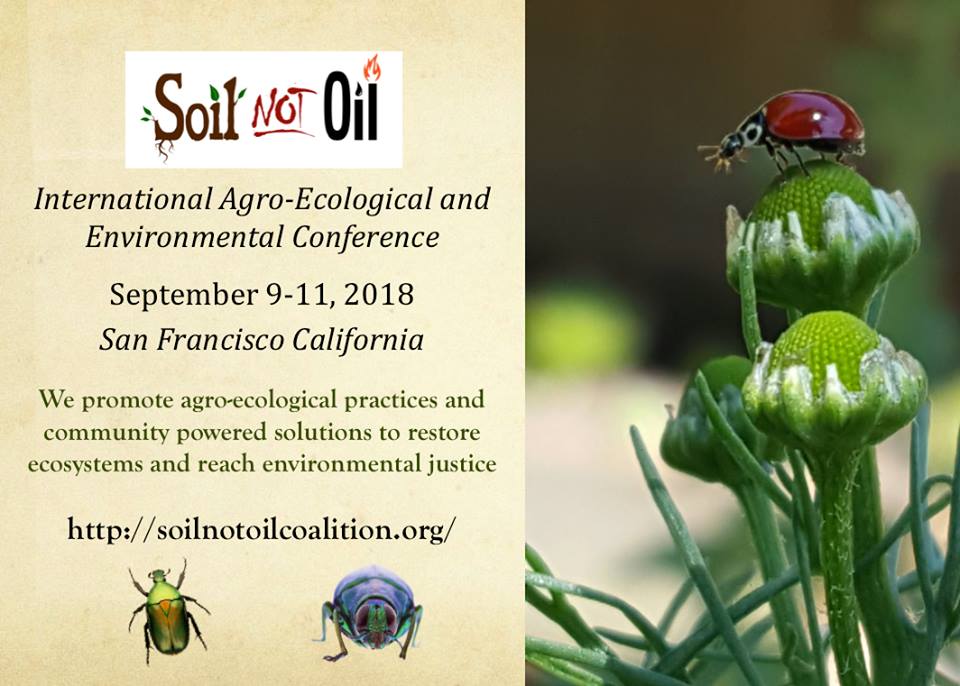 This year the Soil Not Oil Conference will take place September 9-11, 2018 and will focus on community-powered methods to drawdown carbon levels in the atmosphere and recognize the problems associated to inequity and lack of education in all levels.
The conference highlights agro-ecological practices, including regenerative agriculture, carbon farming, no-till/bio-intensive farming, permaculture, bio-dynamics and other alternatives to the industrial food system as tools to sequester carbon. We will feature creative solutions from leaders in the global south to adapt and prevent the ecological and social impacts of climate change.
We believe there can't be a discussion on climate change without addressing the reckless extraction of fossil fuels and its root causes. We will explore successful campaigns adopted by communities and NGOs, both locally and globally, and will learn from environmental justice advocates regarding air/water quality, synthetic fertilizers, herbicides and pesticides, as well as noise and visual pollution.
We encourage local investing to grow our community's capacities and enable local development. We trust the traditional knowledge of indigenous people and we honor the borderless collaboration among organizations led by women, caretakers of the land, elderly, youth and others, who are rarely appropriately represented. This year our goal is to provide a platform in which the voiceless can speak on behalf of their communities in live-streamed presentations.
Soil Not Oil is an educational event in which attendees learn the root causes and effects of climate instability and are inspired by practical solutions. We highly recommend it to students, educators, activists, farmers, scientists, investors, policy makers, health providers, families, urban planners and everyone else concerned with life on earth.
September 2018 is a crucial year in the environmental movement, especially in San Francisco. Governor Jerry Brown is hosting the Global Climate Action Summit, which will bring together high-level elected officials and their corporate partners from around the world. As in past summits, they will discuss current policies and pathways to stay below -2˚C temperature rise by 2100; evaluate economic incentives for the green power industry, and explore high-tech alternatives to drawdown atmospheric carbon. We expect significant emphasis on geo-engineering and bio-technology – GMO's — to feed the world within an unstable climate.
The Biosafety Alliance/Soil Not Oil Coalition has been organizing conferences since 2011, starting with the historic Justice Begins with Seeds Conference that supported GMO labeling campaigns by educating community members about the environmental hazards of industrial agriculture. In 2015, we expanded our work through the Soil Not Oil International Conference, in which we promote practical soil-based solutions to climate change through ecosystem restoration. We aim for environmental justice through affordable ticket prices and scholarships to diverse participants.
Facebook Event: https://www.facebook.com/events/245740006219478/

Organiser Name: Soil not Oil Coalition
Organiser Website: http://soilnotoilcoalition.org/