Date/dates: 28/01/2017
Time: 2:00 pm - 4:00 pm

---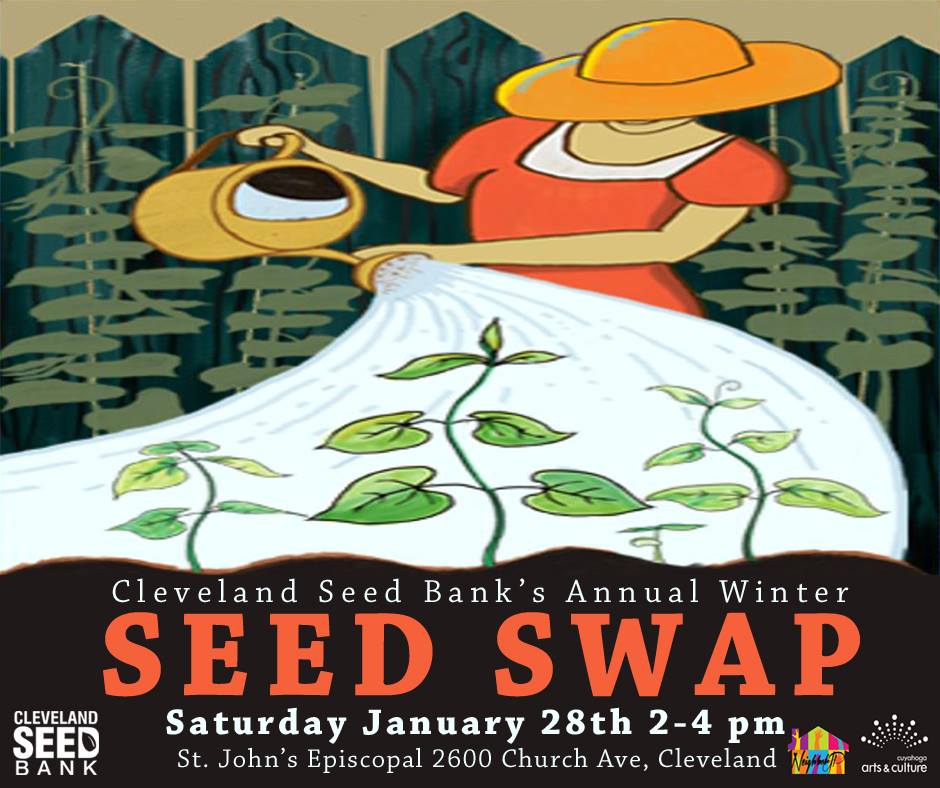 Join us in celebrating NATIONAL SEED SWAP DAY by attending our Annual Seed Swap on January 28th. The event is free and open to all!
Come and swap heirloom seeds, rhizomes, roots, and tubers with other gardeners across our bioregion. Learn, network and prepare for the gardening season ahead. Connect with like-minded individuals who are passionate about saving seeds and sharing their seed stories.
Featuring:
Fermentation guru Doc Fermento
Live music from The Lucky Ones
Coffee from Passengers Cafe
Hors d'oeuvres from Spice Kitchen+Bar
SEEDS, SEEDS & more SEEDS! (all non-GMO, of course!)
We're also excited to announce that we are partnering with Rust Belt Riders to host a Zero Waste event!
We will provide envelopes, labels, markers and seed saving knowledge. Everyone will leave with seeds, new garden friends and renewed enthusiasm for seed saving!
No seeds required! We'll be bringing seeds with us for those who may not have seeds of their own to swap. Feel like you need to bring something? We will have a collection box for food items to donate to a local food pantry.
Also, bring your sourdough starters, cheese and yogurt cultures, kefir grains and kombucha scoby to share.
Looking forward to seeing everyone on the 28th!
GETTING TO THE NEIGHBORHOOD & PARKING:
Plenty of street parking is available. Overflow parking is also available in the Rex Auto lot next door. Ohio City is conveniently accessible on the RTA Red Line (West 25th Street Station) and located along many bus lines including the 20, 21, 22, 35, 45, 79, and 81. Please visit www.riderta.comfor schedules and fares.
PLEASE NOTE: This is a family & kid friendly event and an inclusive, anti-oppressive space.
Webpage with more details: http://www.clevelandseedbank.org/events/
Facebook Event: https://www.facebook.com/events/1828700147343925/

Organiser Name: Cleveland Seed Bank
Organiser Website: http://www.clevelandseedbank.org/
Organiser Facebook Page: https://www.facebook.com/ClevelandSeedBank/
Organiser Twitter url: https://twitter.com/CLESeedbank