Date/dates: 14/05/2016 - 15/05/2016
Time: All Day

---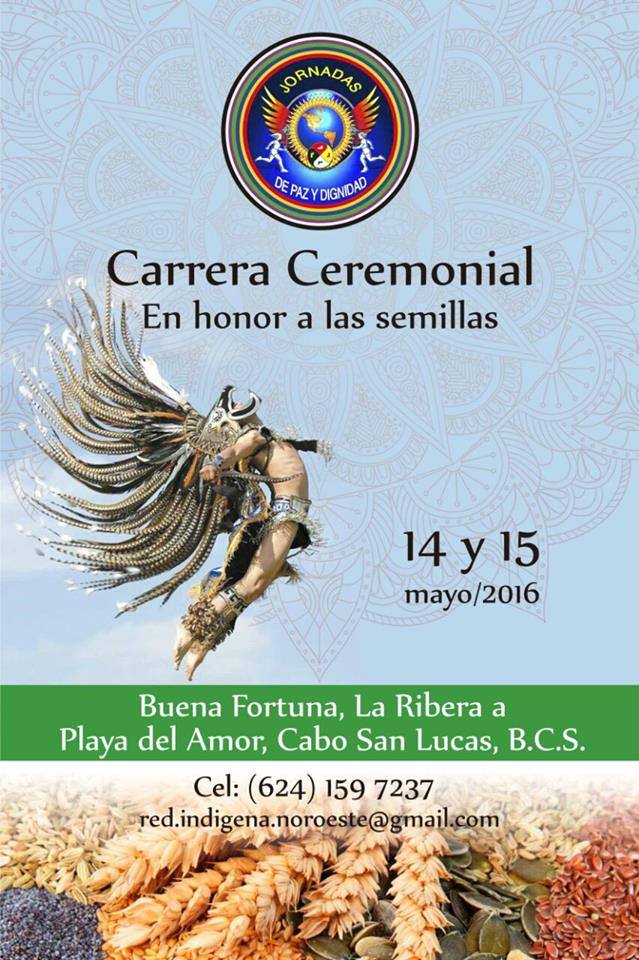 Representatives for many different indigenous tribes spanning from North America to South America are coming together to run over 50 kilometers in a ceremonial prayer run to pray for seed sovereignty and freedom. They are beginning their run at Buena Fortuna Botanical Garden in La Ribera which is home to a seed sanctuary and over 3,000 different varieties of plants saved from all over the world. The run takes off from this very special place where seed saving and biodiversity preservation has been going on for nearly 20 years. The run ends at the beach in Cabo San Lucas. Even if you can't be here physically, feel free to tune in and send your prayers.
---
Jornadas de Paz y Dignidad son una carrera tradicional continental que busca honrar nuestro legado ancestral, representado por las naciones originarias de este continente.
Es una oración a las fuerzas creadoras, dadoras de vida para que hagan florecer las semillas de luz en los corazones de todos los seres de nuestra Madre Tierra (Tonantzin).
Hacemos un rezo en movimiento para activar la memoria ancestral paso a paso, tejiendo una red en peregrinación a la casa de todos, al recuerdo de quiénes somos.
El dia 14 de Mayo los caminantes ceremoniales comienzan con un temazcal, te agradecemos que desde tu hogar los acompanes con tus rezos.
El dia 15 de mayo, domingo, se pueden traer al altar semillas organicas con sus rezos. La ceremonia de apertura esta abierta al publico y no tiene costo alguno.
Posteriormente se comienza la caminata ceremonial desde La Ribera, pasando por las comunidades de Cabo Pulmo, San Jose y culminando en Cabo San Lucas.
Mas información favor de escribir a Red.indigena.noroeste@gmail.com
Hacemos un rezo en movimiento para activar la memoria ancestral paso a paso, tejiendo una red en peregrinación a la casa de todos, al recuerdo de quiénes somos
Facebook Event: https://www.facebook.com/events/189099101476042

Organiser Name: Kitzia Kokopelmana
Organiser email: Red.indigena.noroeste@gmail.com
Organiser Facebook Page: https://www.facebook.com/kitzia.kokopelmana