Date/dates: 06/02/2015
Time: 8:00 am - 8:00 pm

---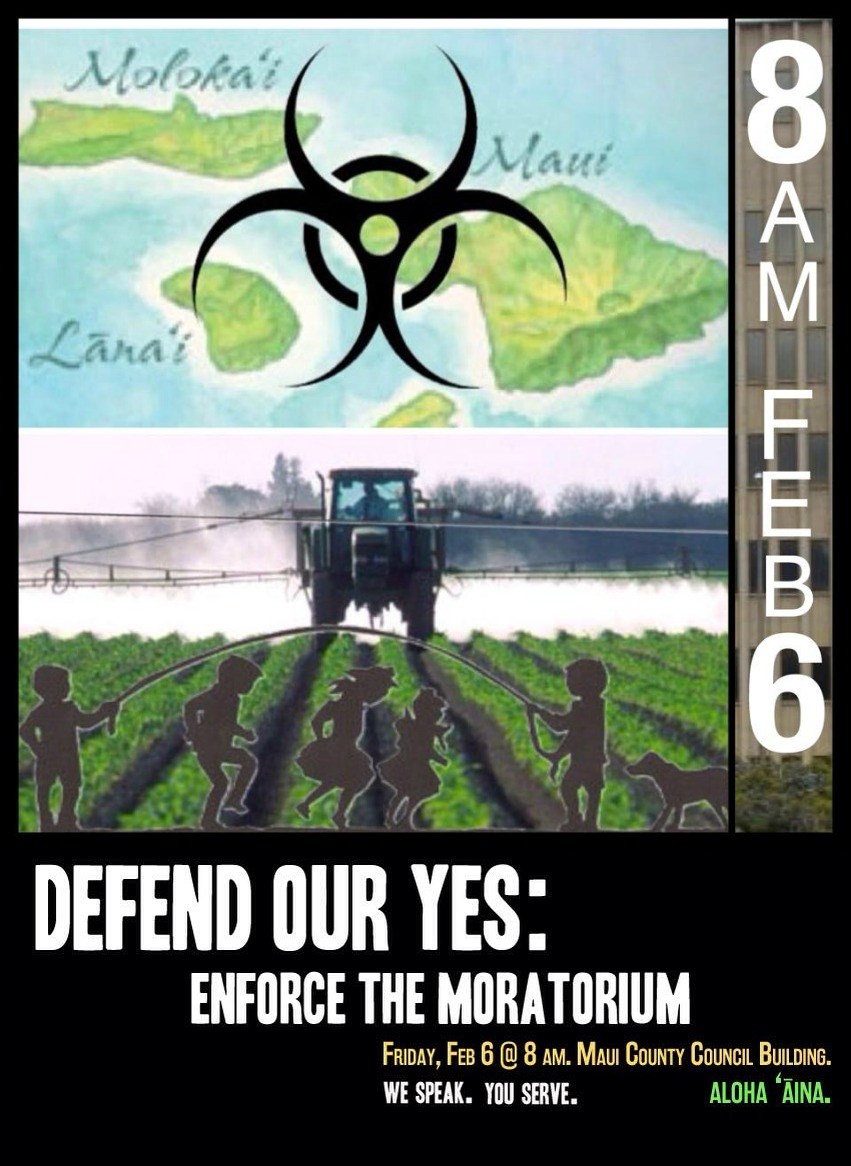 Maui County attorneys just filed a brief that says Maui County attorneys have NO POSITION in defense of the GM crop moratorium ballot initiative we just passed in November! 

We gave them a position when we voted YES in November. Friday, we remind them.

This event has 3 parts. Please attend all or one.
1. Attend a "teach-in" at UH Maui College, Thursday Feb 5 at 6pm. See event page here: (https://www.facebook.com/events/1060415377321180/) Get updates on the legal situation, find out what you can do to help. Learn how to deliver effective testimony.

2. Friday, Feb 6, 7:15 am: join us to welcome our elected officials as they come to work. If they have forgotten who they work for, we will remind them. Please join us on the front lawn of the county building for a peaceful, organized show of unity and resolve. Further instructions will be given upon arrival.
3. 9:00am, we move into the county council chambers. Our Maui County Council will be in session that day, and on the agenda: "adoption of resolution approving the appointment of Patrick K. Wong as the Corporation Counsel." This is a BIG chance to voice our disapproval of how our county attorneys are ignoring the will of the people by refusing to defend the moratorium. Testifying to County Council is an important part of the political process. It's easy and we will provide background information, sample testimony and talking points on this event page and at the teach in on Thursday night. Stay tuned. If you've never spoken to your county council, this is a perfect time to start. If you have questions or are unsure how to, we've got your back. Just let us know: https://www.facebook.com/events/924192397626175/
#NUFFALREADY
ALOHA AINA
Press Release: http://www.centerforfoodsafety.org/press-releases/3727/maui-county-fails-to-defend-the-will-of-its-citizens-caves-to-pesticide-industry#
Civil Beat Coverage: http://www.civilbeat.com/2015/01/maui-county-isnt-sticking-up-for-its-gmo-farming-moratorium/
Facebook Event: https://www.facebook.com/events/924192397626175/
More info: http://seedfreedom.info/maui-county-fails-to-defend-the-will-of-its-citizens/
Organiser Name: Center for Food Safety, Maui United, Babes Against Biotech, SHAKA Movement, Ocean Defender and the Coalition for a Safer Healthier Maui