Date/dates: 15/10/2014
Time: 10:00 am - 11:15 am

---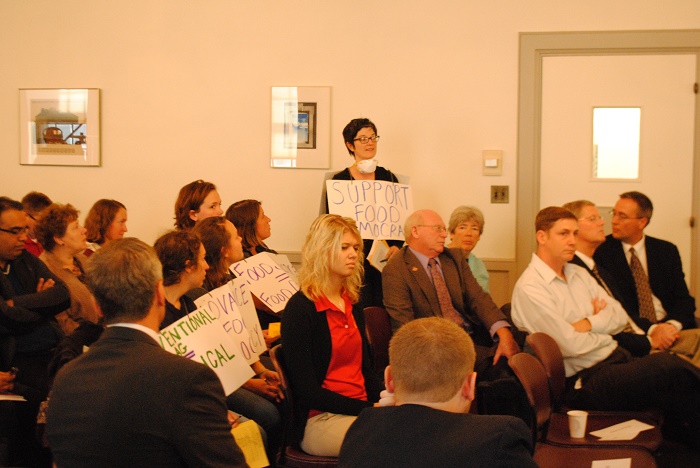 A group of graduate students at Iowa State attended the Robert Fraley lecture on Oct. 15 to listen to his speech that was given in celebration of the World Food Prize. Out of the six students that came to silently protest, 5 wore gas masks and signs over their bodies that read messages like "Support Food Democracy." The sixth student wore a banana costume with a sign that read "keep me GMO-free."
Our inspiration for doing the silent protest is in reaction to the recent email to Iowa State students in April of 2014 that offered volunteers $900 in return for consuming GMO bananas that were supposed to help increase vitamin A levels. Students have gathered together to discuss this topic, and are looking forward to doing other events in opposition of Iowa State's involvement in this GMO banana research.
—
NO GMO BANANA Campaign was launched on October 2nd by The Global Citizens' Alliance for Seed Freedom to raise awareness about GMO bananas (expand on vit.A modification) being based on Biopiracy.
Tests on humans carried out in Iowa are corporate props whose real aim is the rapid commercialization of pirated GMO bananas. If the Iowan trials are deemed successful, then the GMO bananas patented and issued from these tests will be used in Uganda and other developing countries.
This slideshow requires JavaScript.
More info: http://amestrib.com/news/gmo-speech-prompts-small-protest
Organiser Name: Jackie Nester and Angie Carter
Organiser email: jnester1991@gmail.com
Organiser Facebook Page: https://www.facebook.com/growvegetables?fref=ts; https://www.facebook.com/jackie.nester.7