Date/dates: 02/11/2014 - 03/11/2014
Time: 4:00 pm - 6:00 pm

---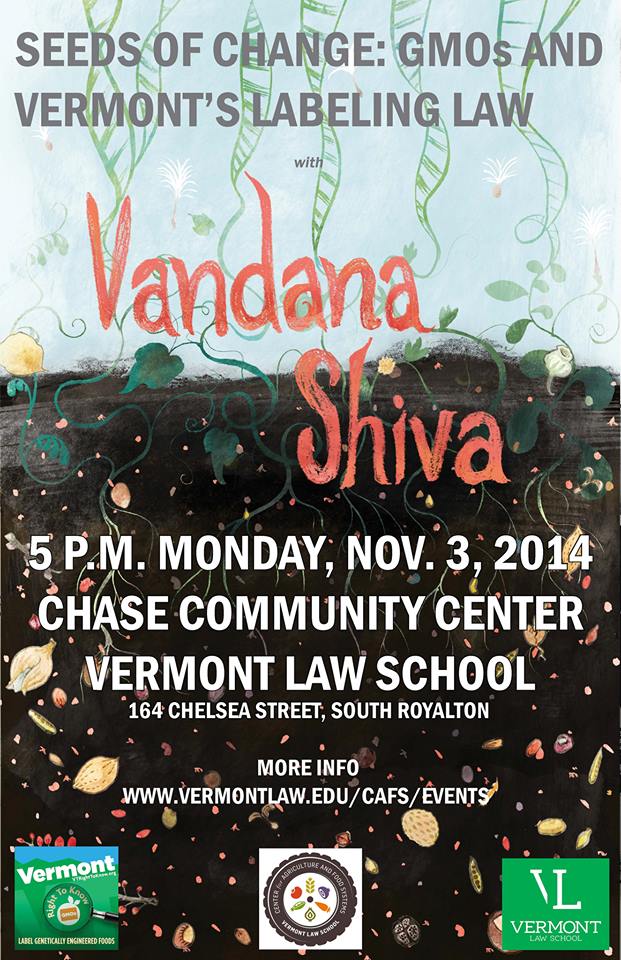 Vermont Right to Know GMOs, 14 November 2014
---
Times Argus, 4 November 2014
---
Vermont Law School, 17 October 2014
Press Release
Global Food Activist Vandana Shiva at Vermont Law School Nov. 3 for "Seeds of Change: GMOs and Vermont's Labeling Law"
SOUTH ROYALTON, Vt.—
International food activist and author Vandana Shiva will speak about the role of Vermont's GMO labeling law as part of a global solution to transform food systems and reverse climate crisis during a lecture at 5 p.m. Monday, Nov. 3, in Chase Community Center on the Vermont Law School campus. The event is free and open to the public and press.
Titled "Seeds of Change: GMOs and Vermont's Labeling Law," Shiva's lecture is sponsored by the Center for Agriculture and Food Systems at VLS in support of the Vermont Right to Know GMOs Coalition. This year the coalition achieved a milestone with the passage of the country's first mandatory GMO (genetically modified organism) labeling law, with critical legal support from the Environmental and Natural Resources Law Clinic at VLS.
Shiva is the author of "The Violence of the Green Revolution," "Monocultures of the Mind," "Stolen Harvest," and "Water Wars." Her farm in India, "Navdanya," is a mecca for biodiverse, sustainable agriculture and serves as a network of seed keepers and organic producers. Navdanya has trained thousands of farmers in sustainable agriculture.
"We are privileged to have Dr. Vandana Shiva here in Vermont, to share her wisdom with the Vermont Law School community and our Vermont neighbors," said CAFS Director Laurie Ristino, VLS associate professor of law. "Dr. Shiva's support of environmental and food activism on a global scale is inspirational. Her words resonate with me, personally, and with so many proponents of the new food movement."
In addition to the Nov. 3 lecture at Vermont Law School, Shiva will speak from 4 to 6 p.m. Sunday, Nov. 2, at Contois Auditorium in Burlington City Hall, 149 Church Street.
For more information about Dr. Vandana Shiva and the work of Navdanya, visit www.navdanya.org.
The Center for Agriculture and Food Systems at Vermont Law School supports scholars and practitioners in producing practical, robust scholarship for use by the food and agriculture community. CAFS offers an expanding curriculum in food and agriculture for law and policy students, and training and legal tools to help build sustainable local and regional food systems. For more information about the Center for Agriculture and Food Systems, visit www.vermontlaw.edu/cafs, call CAFS Director Laurie Ristino at (802) 831-1230, or email lristino@vermontlaw.edu.
Vandana Shiva image courtesy of navdanya.org.
—
Contact
Maryellen Apelquist,
Director of Media Relations,
Vermont Law School
office: 802-831-1228
cell: 802-299-5593
mapelquist@vermontlaw.edu
Webpage with more details: http://www.vermontlaw.edu/news-and-events/newsroom/press-release?id=135
Facebook Event: https://www.facebook.com/events/1560427114186422/

Organiser Name: Center for Agriculture and Food Systems at Vermont Law School, Vermont Right To Know
Organiser email: mapelquist@vermontlaw.edu
Organiser Website: http://www.vermontlaw.edu/cafs
Organiser Facebook Page: https://www.facebook.com/CAFScenter
Organiser Twitter url: https://twitter.com/CAFScenter