Date/dates: 26/09/2015
Time: 10:00 am - 4:00 pm

---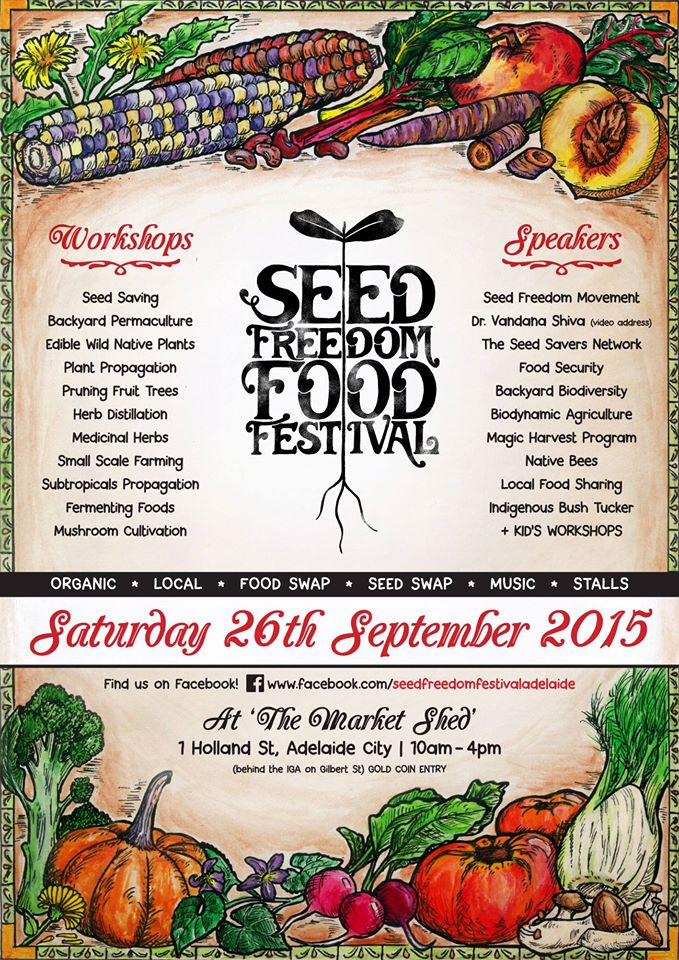 Seed Freedom Food Festival is returning 2015!
Saturday 26 September, 10am – 4pm.
@ 1 Holland St, Adelaide 5000 
(in 'The Market Shed' space).
Gold coin donation entry.
—
SFFF2015 is for celebrating, informing and inspiring about organic food, local food, growing your own food as well as the worldwide need to save seed! 
'Lettuce' offer you all the tools and resources for how, and why, to grow your own organic food, save your own seeds and support those in your local community doing the same.

– Over 20 FREE WORKSHOPS and SPEAKERS
– Sprout space: KIDS WORKSHOPS
– A huge SEED SWAP & FOOD SWAP
– Organic retail STALLS: seedlings, seeds, products
– Organic FOOD STALLS
– COMMUNITY GROUP STALLS
– Resource tables and SEED DISPLAYS
– SEED MANDALA creation
– STORYTELLING TENT
–  LOCAL MUSICIAN line up
+ bunches of community and carrots! 
WORKSHOPS:
* Jude Fanton: The Seed Savers' Network
* Neville Bonney: Edible Native Foods
* Karen Montgomery Kspace – Plant Propagation
* Adam Voysey: Roseneath Organics – Herb Distillation
* Remedy Bliss ~ In The Raw: Fermenting Foods
* Nat Wiseman: Village Greens of Willunga Creek – Small Scale Farming
* Nadja Osterstock: Nadja's Garden – Backyard Permaculture
* Simon Ardill – Fruit Tree Pruning
* Niko Jah – Subtropicals fruit tree propagation
* Devashon – Mushroom Cultivation
* Sandra Ullrich – CBD Bees, The importance of Bees
* Steven Hoepfner – Seed Bomb Making
*Lolo Houbein (acclaimed author of 'One Magic Square') will be available at her 'Ask Lolo' table in the morning for answering your home gardening questions & with her books on hand.
This is a unique opportunity – make the most of it!
SPEAKERS:
* Dr. Vandana Shiva: (video address) Seed Freedom, Food Sovereignty and Earth Democracy
* Peter Croft: Food Strategies and Sustainable Communities
* Alistair Martin: RipeNear.Me app creator on the local food movement
* Tori Moreton: The Magic Harvest Program
* Deb Cantrill: Biodynamics and bringing life back to your garden
* Joe Kielnerowski & Roseanne Parker: Connected gardens and backyard sharing.
* Denise Jarrett: Indigenous bush tucker & permaculture

Kid's Sprout Space Workshops:
Nature Crafts, Seed Propagation, paper pot making and more…
We look forward to learning, sharing and smiling with you, family and friends on Saturday 26th September! 
Peace and pumpkin seeds. x
---
TIMELINE (NEWEST – OLDEST)
A few snaps from the Seed Freedom Food Festival held in #Adelaide yesterday | http://t.co/Pj0Gwkilmx pic.twitter.com/UUnvoY3DaH

— Erin B (@SheCooksGardens) September 28, 2014
We're at the #SeedFreedom Festival in #Adelaide today. Beautiful day for it. #sfff2015 pic.twitter.com/EfqQLWM2Wm

— Pip Magazine (@PipMagazine) September 26, 2015
Learn about organic gardening & seed saving at the Seed Freedom Food Festival http://t.co/Kb87QUaArO #Adelaide pic.twitter.com/8XLPvFwQev

— Dave Walsh (@Dave__Walsh) September 13, 2014
Webpage with more details: www.facebook.com/seedfreedomfestivaladelaide
Facebook Event: https://www.facebook.com/events/736945659770664/

Organiser Name: Seed Freedom Food Festival
Organiser email: seedfreedomfestival@gmail.com
Organiser Facebook Page: www.facebook.com/seedfreedomfestivaladelaide