Date/dates: 01/01/2016 - 15/01/2016
Time: 12:00 am

---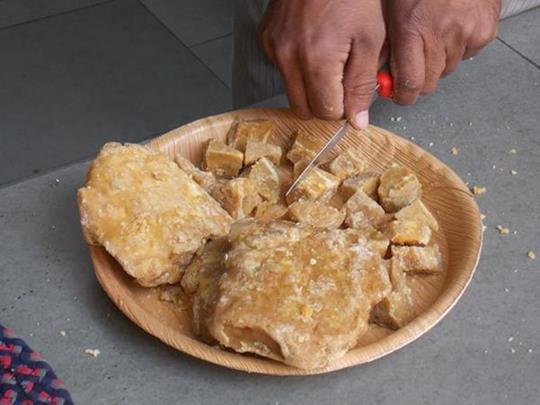 Foodies spoilt for choice at organic gur festival
Hindustan Times (Delhi), 7 January 2016
Source: http://paper.hindustantimes.com/epaper/viewer.aspx
NEW DELHI: The ongoing Organic Gur Festival at Dilli Haat aims to offer visitors the authentic taste of food items made from gur (jaggery). As winter is here, winter favourite gajaks or chikkis, made of sesame seeds, groundnut and jiggery are selling like hot cakes. Gur ki kheer (rice cooked in jaggery syrup), gur ka halwa and gur roti (sweet roti made from wheat and milk-jaggery mixture) are also luring those with a sweet tooth to the mela. A variety of laddoos especially prepared using gur and cow ghee can be tried too.
The festival is being organised by Navdanya to help farmers and to revive the traditional rural sugarcane and gur processing units in villages. "Every year, we celebrate the gur festival to revive our desi sweeteners and get the healthy sweetness of our villages to our patrons. Most of the products here are created by farmers from the sugarcane belt. We stand together with them and work towards reviving their rural processing units, enabling them to produce gur. This is the only way they will be free of debt and bullying by the sugar mill industries. This festival is a way to introduce good quality products to the consumers and connect them with the actual producers of the food," said Dr Vandana Shiva of Navdanya.
The festival is on till January 15.
---
Enjoy #Gur (#artisanal, #pure ,#organic #naturalsugar ) & the wonderful healthy products , #Gajak, #Rewari @NavdanyaBija #DilliHaat 1-15Jan

— Dr. Vandana Shiva (@drvandanashiva) January 2, 2016
@NavdanyaBija will join #pulsefeast on 6th at #EarthUniversity #DoonValley & at #NavdanyaOrganicCafe #DilliHaat https://t.co/0SUu46IaYv

— Dr. Vandana Shiva (@drvandanashiva) January 2, 2016
---
Related Campaign
---
Related Event
10 January – 30 March 2015
Organiser Name: Navdanya
Organiser email: http://www.navdanya.org/contact
Organiser Website: http://www.navdanya.org/
Organiser Facebook Page: https://www.facebook.com/vandanashiva.navdanya
Organiser Twitter url: https://twitter.com/NavdanyaBija
Location:
Navdanya Organic Slow Food Restaurant and Shop
Dilli Haat Shop No. 18, Opp. INA Market - New Delhi
Delhi - India
More Events at this location