Date/dates: 02/10/2015 - 05/10/2015
Time: All Day

---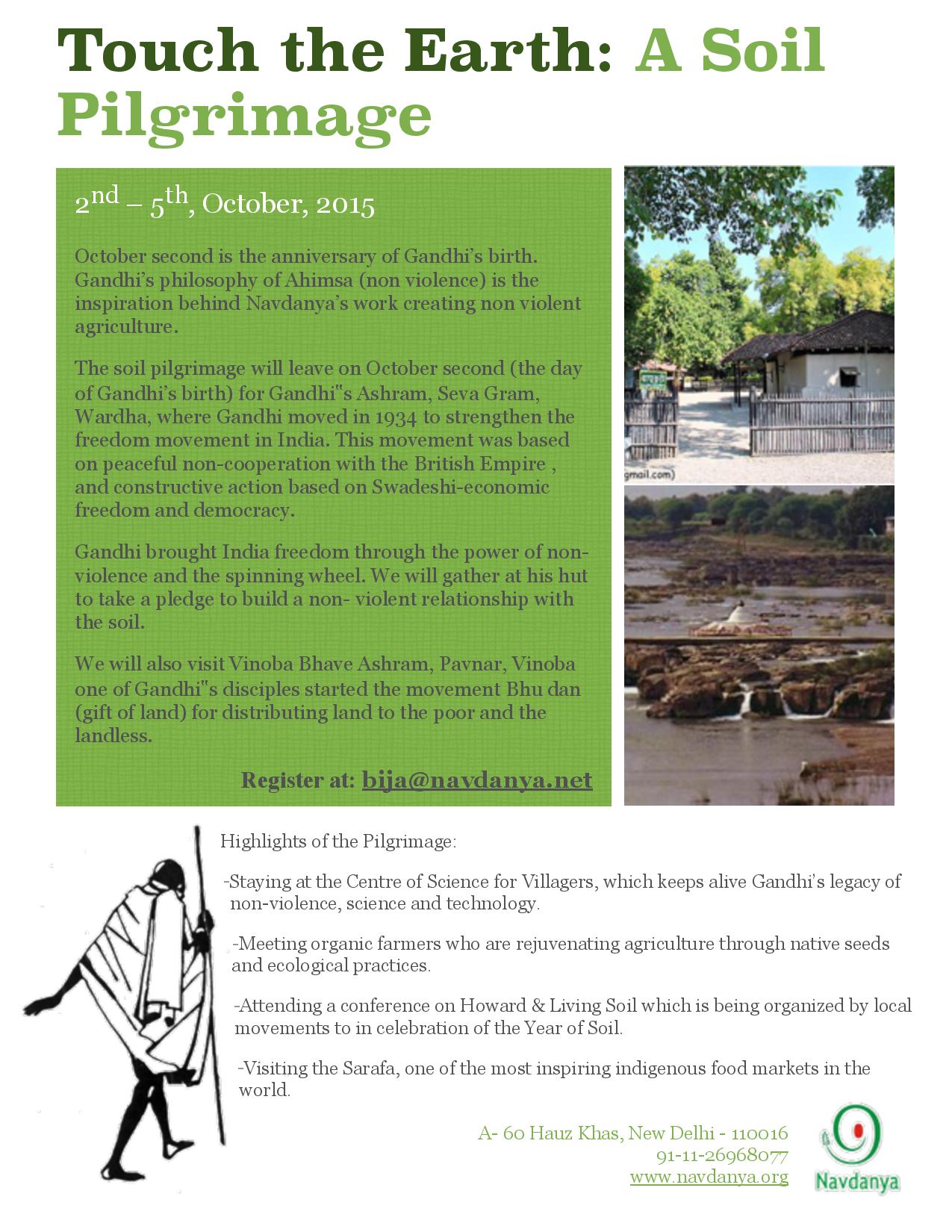 Press Release, photos and highlights:
–
by Navdanya, 2 October 2015
---
Taken at Bapu Kutir, Sewagram Ashram, Vidarbha, Maharastra, India
2nd Oct, Gandhi's Birth Anniversary, 2015
On the occasion of the Soil Pilgrimage,
Year of Soils, 2015
---
2nd October is Gandhi"s Birth anniversary. Navdanya has been inspired by Gandhi's philosophy of Ahimsa (non violence) to create a non violent agriculture The soil pilgrimage will leave on Gandhi's birth anniversary the 2nd October for Gandhi"s Ashram, Seva Gram, Wardha, where Gandhi moved in 1934 to strengthen India"s freedom movement based on peaceful non cooperation with the British Empire , and constructive action based on Swadeshi-economic freedom and democracy.
Gandhi brought India freedom through the power of non-violence and the spinning wheel. We will gather at his hut to take a pledge to build a non- violent relationship with the soil.
We will also visit Vinoba Bhave Ashram, Pavnar, Vinoba one of Gandhi's disciples started the movement Bhu dan (gift of land) for distributing land to the poor and the landless.
---
Related Event: Bhoomi Maati Maa: the Festival of The Living Soil – New Delhi, 1st October
---
This slideshow requires JavaScript.
Photos source: http://www.navdanya.org/earth-university/courses-in-2015-16
---
The pilgrims will stay at the Centre of Science for Villagers, which keeps alive Gandhi's legacy of non-violence, science and technology. From the buildings to the compost toilets, the centre reminds us that we come from the soil and give back to the soil.
Lunch will be at the open air organic café at the Seva Gram Ashram. After lunch we will move to Magan Sangrahalaya, the museum for indigenous science and technology to interact with the organic movement of Vidarbha, Maharashtra.
We will interact with the farmers of Fibres of Freedom movement, a celebration of the knowledge and skills of our farmers, weavers and artisans, as a celebration of the beauty the Earth provides and our hands create.
3rd, October: soil pilgrimage will visit organic farmers who are rejuvenating agriculture through native seeds and ecological practices
4th, October: The pilgrimage will travel to Indore, connecting Gandhi"s non violence with Albert Howard"s legacy of promotion of Organic farming. Howard was sent to India by the British Empire to introduce industrial agriculture. He saw no pests in the fields, and the soils were fertile. He decided to make the India peasant and pest into his Professors. The result was his classic The agricultural Testament on which the modern organic movement is based. Howard moved to Indore where he refined the composting method which became famous as the Indore method of composting.
A conference on Howard & Living Soil is being organized by local movements to celebrate Howard & the Year of Soil.
We will end the pilgrimage with a visit to one of the most inspiring indigenous food markets of the world, the Sarafa , where the commercial establishments close down at night and the market becomes a festival of street foods.
Webpage with more details: http://www.navdanya.org/news/504-touch-the-earth-a-soil-pilgrimage
More info: http://seedfreedom.info/partners/navdanya-india/
Organiser Name: Navdanya
Organiser email: http://www.navdanya.org/contact
Organiser Website: http://www.navdanya.org/
Organiser Facebook Page: https://www.facebook.com/vandanashiva.navdanya
Organiser Twitter url: https://twitter.com/NavdanyaBija