This slideshow requires JavaScript.
Press Release
New Delhi, 13 November 2015: Navdanya is collaborating with the ministry of Women and Child Development to bring to Dilli Haat, INA the first ever  organic Women of India Exhibition. Through the Mahila Anna Swaraj (MAS) (Diverse Women for Diversity) initiative Navdanya has connected over 5 million women from 22 states of India as one force for sustainability and women's empowerment. Members of MAS are women seed savers, women organic growers, artisanal processors.
–
They include Navdanya's own SHGs and other prominent women's organisation such as Kudumbashree from Kerala, Sewa from Gujarat, Gravis from Rajasthan, Guild of Services working in UP and Delhi. MAS brings together women farmers, artisans and SHGs members from over 22 states to showcase their diversity, creativity and skill. The exhibition will be on till November 23rd. During this period patrons will get a chance to choose from a wide variety of organic produces such as handicrafts, organic textiles and food. Navdanya has been asked by the Ministry to serve organic High Tea for the inauguration at 3 pm on 13th November.
Navdanya has emerged as one of the pioneer organic movements of modern India. Through its vast network women and small farmers, we have worked to make India food sovereign and give food security back in the hand of women farmers once again.
We all aim to revive our women centred traditions and once again make women the keepers of health, nutrition and seed. Throughout history women's knowledge and skills that have kept India diverse, nutritious and healthy.
But today our women are faced with challenge of 'The Green Revolution Monocultures'. The chemically produced food has killed our biodiversity and given us nutritionally empty wheat and rice. It has also displaced hundreds of varieties of pulses and oilseeds. It has robbed women of their role and made the seed and biotech MNC's the new owners and controllers  of the seeds and food. The current food crisis is a result of disharmony in our ecology caused by marginalisation of women and exploitation of our soils.
Today, India is the biggest importer of edible oil. GMO Soya and Palm oil are destroying forests of Brazil and Indonesia. But they are also destroying the livelihoods of our farmers. They are stealing from us our right to tasty, healthy nutritious food. The corporations want to commodify our desi oils seeds and replace our oilseed diversity, with a genetically modified monoculture.
In 1998, Mahila Anna Swaraj started the Sarson Satyagraha against imports of GMO soya oil in India. Led by corporate propaganda the government banned our traditionally cold pressed mustard oils and forced our millers to shut their ghaanis. MAS led the movement to bring back our sarson. We forged an alliance with mothers, sisters, millers and thousands of sarson lovers to fight this unjust ban.
Under threat in 2015 again from the GMO mustard, we re-launched the Sarson Satyagraha across India to spread awareness about GM mustard and help farmers grow and save our desi mustard again. Sarson Satyagrahis have planted desi mustard from Rajasthan to Jharkhand in past few months and distributed gunny bags filled with local rai and sarson seeds for free to small farmers.
2016 is the year of Pulses. We are launching a campaign "Pulse of life" to conserve India's pulse diversity, grow more dals in India, and reclaim India's Dalhan (Dal) sovereignty. Today, agro-chemical and agribusiness corporation are plotting to steal from millions of Indians one of the most essential nutrition from their diets. This is methodically being done by increasing dependence on imports, price manipulation, inflation and bad policy. Our dal farmers are not supported by our government. In the coming year,  we will start an intensive drive to make our farms more diverse and promote desi dals all over India. We will start new community seed banks of dal varieties, train more farmers in biodiverse organic farming, share, and bring real dal to our members through fair trade and the Food Smart Citizen movement.
For more details please contact:
Renu, 837393459
This slideshow requires JavaScript.
Photos by Shaani Singh and Indra Shekhar Singh
---
Related Articles
Hindustan Times, 17 November 2015
by Dr Vandana Shiva, 14 November 2015
by Dr Vandana Shiva, 14 November 2015
Hindustan Times, 14 November 2015
The Times of India, 13 November 2015
---
Related Action
---
Related Campaigns

–
---
---
---
Related Calendar Event

–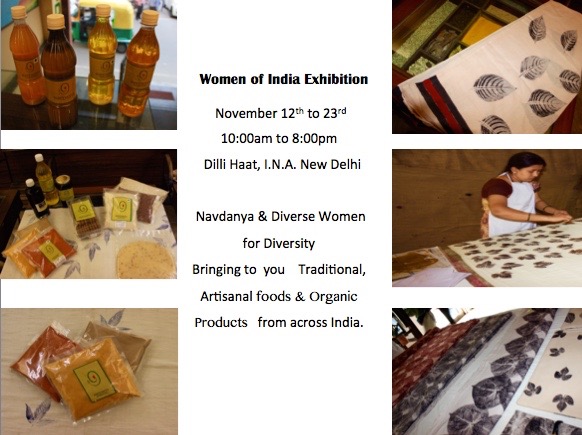 ---
SOCIAL MEDIA STREAM (NEWEST – OLDEST)
Team Navdanya, who cooked organic food throughout and made #WomeninIndia exh a gourmet experience @drvandanashiva pic.twitter.com/58lkjBF4DT

— Indra Shekhar Singh (@IndraSsingh) November 23, 2015
Pratibha Jha, young painter from Bihar honoured at WomeninIndia #MahilaAnnaSwaraj pic.twitter.com/E5ClZNKmx4

— Indra Shekhar Singh (@IndraSsingh) November 23, 2015
Yangchin Dolma #MahilaAnnaSwaraj member from Ladakh, being facilitated by joint secretary, WCD. @drvandanashiva pic.twitter.com/idh9l84QId

— Indra Shekhar Singh (@IndraSsingh) November 23, 2015
#FibresofFreedom members packing organic cotton items after a bumper sale at #WomeninIndia exh Dilli Haat pic.twitter.com/e7TwP29Uzg

— Indra Shekhar Singh (@IndraSsingh) November 23, 2015
Threatened by poisons in food Doctors from AIIMS join #Foodsmartcitizen #Annaswaraj @drvandanashiva pic.twitter.com/2hSfow8ook

— Indra Shekhar Singh (@IndraSsingh) November 22, 2015
Atem, 24, research student at JNU joins our #Foodsmartcitizen campaign for #Annaswaraj | #NoGMO #Organic pic.twitter.com/Vfcqw1tYq8

— Indra Shekhar Singh (@IndraSsingh) November 22, 2015
Navdanya welcomes the festival of the Sun, Chhat at Dilli Haat @drvandanashiva pic.twitter.com/RAVH6gFG2E

— Indra Shekhar Singh (@IndraSsingh) November 17, 2015
Navdanya's #Chhat altar at Dilli Haat. Wishing all of you a very happy Chhat. @drvandanashiva pic.twitter.com/wqd9nuHE7q

— Indra Shekhar Singh (@IndraSsingh) November 17, 2015
Navdanya celebrates #Chhat2015 at the #WomeninIndia exhibition, Dilli Haat today.. Join us 4 Bihari delicacies and pooja @drvandanashiva

— Navdanya (@NavdanyaBija) November 17, 2015
Read @Httweets coverage of @Drvandanashiva at the #WomeninIndia Exhibition https://t.co/jwWZYZbPQZ

— Indra Shekhar Singh (@IndraSsingh) November 17, 2015
.@drvandanashiva inducting Ashwariya 18 into #YuvaAnnaswaraj campaign with a piece of Gur. #WomeninIndia exh. pic.twitter.com/dtgtCqzpaY

— Indra Shekhar Singh (@IndraSsingh) November 16, 2015
Navdanya launches #yuvaannaswaraj on #ChildrensDay to make India refined sugar free. @drvandanashiva pic.twitter.com/YdJU5NFXnS

— Indra Shekhar Singh (@IndraSsingh) November 14, 2015
Navdanya's #WomeninIndia exhibition covered by @Httweets https://t.co/Bi0KGwjckl #MahilaAnnaswaraj @drvandanashiva @radhamohanBJP

— Indra Shekhar Singh (@IndraSsingh) November 14, 2015
Encouraging #Mahilaannaswaraj members in the #WomeninIndia exhitibion at Dilli Haat @drvandanashiva for #Annaswaraj pic.twitter.com/2iRNLpWLn1

— Indra Shekhar Singh (@IndraSsingh) November 13, 2015
Customers q-up to buy organic produce from #MahilaAnnaswaraj members at #WomeninIndia exhibition at Dilli Haat. pic.twitter.com/CHvzw4EDfT

— Indra Shekhar Singh (@IndraSsingh) November 13, 2015
At Navdanya's organic high tea #WomeninIndia union ministers @RadhamohanBJP & Maneka Gandhi with @drvandanashiva pic.twitter.com/psufnIs2Wp

— Indra Shekhar Singh (@IndraSsingh) November 13, 2015
#MahilaAnnaswaraj members selling organic forgotten foods, millets at #womeninindia exhibition in Delhi Haat. pic.twitter.com/r53Lb4UpYE

— Indra Shekhar Singh (@IndraSsingh) November 13, 2015
Turning consumers into food smart citizens| @drvandanashiva explaining the harmful effects of GM soy at Dilli Haat pic.twitter.com/tjTOPQGm3w

— Indra Shekhar Singh (@IndraSsingh) November 13, 2015
Visit #Navdanya #MahilaAnnaSwaraj stalls at #WomenOfIndiaExhibition at#DilliHaat 13th to 23th Nov

— Dr. Vandana Shiva (@drvandanashiva) November 13, 2015
#NavdanyaOrganic #amaranthcutlets #idli #ragibiscuits #besanbarfi organic tea served for inauguration of #WomenOfIndia Organic Exhibition

— Dr. Vandana Shiva (@drvandanashiva) November 13, 2015
#AgMinister @RadhamohanBJP & Women &Child Minister @ManekaGandhi1 inaugurated #WomenOfIndia #Organic Exhibition to promote #OrganicIndia

— Dr. Vandana Shiva (@drvandanashiva) November 13, 2015
.@drvandanashiva at a #MahilaAnnaSwaraj stall in Dilli Haat. #Womeninindia exhibition 2015 #Organic pic.twitter.com/X9KjFCs3sS

— Indra Shekhar Singh (@IndraSsingh) November 13, 2015
Presented with a scarf by #MahilaAnnaSwaraj members from Ladakh @drvandanashiva at 1st day #WinD2015 pic.twitter.com/9JIjvTl6Mq

— Indra Shekhar Singh (@IndraSsingh) November 12, 2015
#nandanya #DiverseWomenforDiversity gathering in Delhi for first ever #WomenofIndia organic exhibition

— Dr. Vandana Shiva (@drvandanashiva) November 12, 2015
At #DilliHaat #Navdanya organising #WomenOfIndia #Organic Exhibition with Ministry #DiverseWomen arriving from #ladakh #kerala #gujrat

— Dr. Vandana Shiva (@drvandanashiva) November 12, 2015