This slideshow requires JavaScript.
Pledging to end hunger on World Food Day 2015, Navdanya started an awareness campaign in India to inform people about the current politics of food and demand for Anna Swaraj (Food sovereignty).
The first event organised by Navdanya began with over 60 organic women farmers coming together at the Bio-diveristy conservation farm in Ramgarh, Dehradun this Friday morning. The farmers met with each other and exchanged mustard and vegetable seeds.
This was followed by lectures and discussions on the GM Mustard issue. The speakers at the event were Dr Vinod Bhatt and Dr.R. S Rawat; both of them have been active campaigners against the introduction of GMOs in India. They spoke to the farmers about the importance of standing together against seed corporations such as Monsanto, who are now eyeing to destroy our traditional mustard and force thousands of our local oil tiller off the land. The women farmers shared their experience of cooking in soy oil and pledged not to let the Indian Rai (mustard) disappear.
"We women have been saving seeds for generations. This is our sacred duty and we will not listen to anybody who wants to stop us from feeding our children nutrition food," said Bimla Devi, Seed saver from Dehradun.
Before departing each of the women were divided into sub groups and given the responsibility of on variety of seed that they had to preserve. Most women enthusiastically took their seeds and promised to return next harvest season with ten times more than what they had been given.
The farmers also discussed the Bt cotton failure in Punjab and expressed solidarity Navdanya's #Farmerslivesmatter campaign.
Carrying the baton in New Delhi, Navdanya organised a food awareness seminar at Jawaharlal Nehru University, one of in India's most prestigious graduate university. The theme for the seminar was Poisons in our Food: Safety, Biosafety and Public concerns of chemical agriculture. The key speaker at the event was public health expert Dr Mira Shiva, who has been involved with public health policy making for the past three decades. Drawing from her vast experience as the advisory committee member of Peoples' Health Movement & former Chairperson, Health Action International Asia Pacific, she spoke to the students about the importance of food and further discuss about the health and biosafety of GMOs. Apart from the talk, there were two film screening dedicated to the living soil and seed.
The scholars of JNU along with the students' unions joined hands with Navdanya in our #FarmersLivesMatter campaign to tell the Bt Cotton farmers in Punjab that they are not alone. Navdanya also gifted the JNU library with books analyse the current food politics of India.
But there is no Food day with good healthy food and keeping that commitment the Navdanya cafe at Dilli Haat, New Delhi devised a gourmet way to celebrate the day. Our organic chefs brought to the to our capital forgotten delicacies during our special World Food day weekend which started starting this Friday. Foods such as Jhangora, Amaranth, Ragi, etc are being prepared by especially for our patrons palette.
Also making sure that our devout patrons don't miss out, the cafe has also created special Navratra Thali with Singhara halva, Seetaphal in Rai tadkha, Kuttu pakoda, etc. This menu will be available all throughout the Navratri period.
Dr Vandana Shiva, Director Navdanya on the occasion said,
" It is in the ancient teaching of India, that we become what we eat. So on this occasion of the World Food Day, I want each person to be very conscious of what they eat."
"We should only eat food that has been cared for by the farmers and not exploited from them. Good food is the mantra to a great life, eat well and eat ethically", she added.
by Indra Shekhar Singh
---
Related Actions and Campaigns – India

---
---
---

---
---
More World Food Day Actions and Articles – USA, World
–

---
Reflections on World Food Day 16th October 2015
By Dr Vandana Shiva
---
More events and actions (September – October 2015)

–

2 – 5 October 2015
By Dr Vandana Shiva — The Asian Age, 8 October 2015
---

2 October 2015
Gandhi's Birth Anniversary, 2015
Taken at Bapu Kutir, Sewagram Ashram, Vidarbha, Maharastra, India
On the occasion of the Soil Pilgrimage,
Year of Soil, 2015
---

1st October 2015
New Delhi, India
---
29 September 2015
---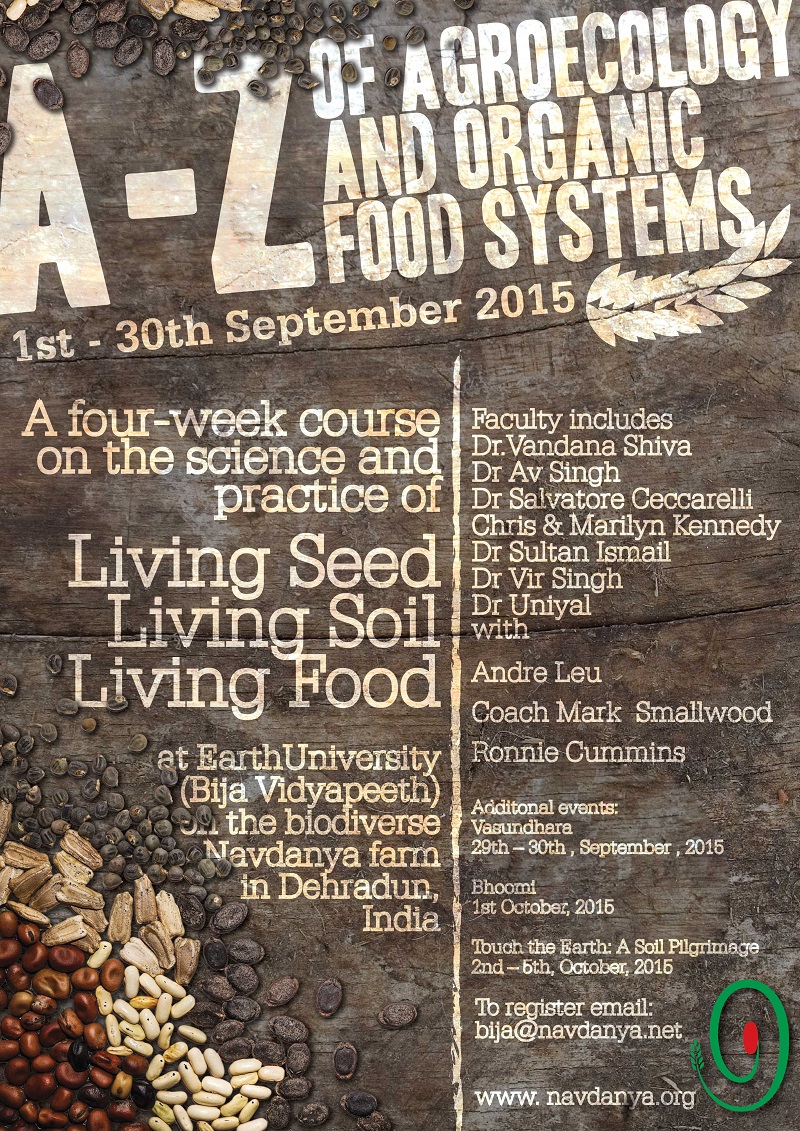 1 – 30 September 2015
---