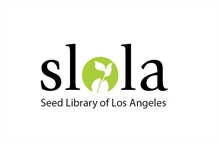 OUR MISSION is to facilitate the growth of open-pollinated seeds among residents of the Los Angeles Basin. We are building a seed collection and repository, educating members about the practice of seed-saving, and creating a local community of seed-saving gardeners. We seek to preserve genetic diversity, increase food security and food justice in our region, safeguard alternatives to GMO's, and empower all members through a deeper connection with nature and the experience of self-reliance. We will strive for excellence in all that we do, knowing the preservation of seed is a sacred trust.
Founded in December 2010, the Seed Library of Los Angeles (SLOLA) is headquartered at The Learning Garden at Venice High School. We meet monthly at The Learning Garden. Each meeting includes an educational presentation and a seed exchange among members, as well as lots of fun and good company!
People save seeds for a host of different reasons from ideology to old-fashioned thriftiness. We welcome all viewpoints and levels of interest. We seek to reflect all the cultural diversity of our amazing city. We welcome gardeners of all ages and skill levels, including apartment dwellers with one pot!